The Minute After: Stony Brook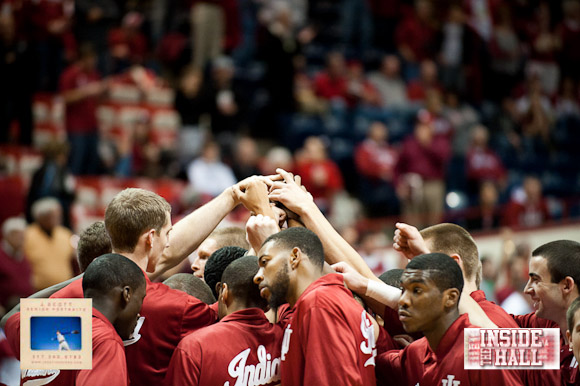 Thoughts on a 96-66 thumping of the Seawolves:
SHEELADIPO
Victor Oladipo started this evening. Will Sheehey came off the bench. And whether Crean continues to swap these two in and out of the starting lineup may not matter. Because they're shaping up to have an impact no matter when they enter the game. Oladipo set the tone early, scoring with ease in transition — which carried over into the second half — and finished with 16 points (7-of-9), six boards and two steals. He played with poise and energy and swagger.
Sheehey didn't play in the second half because of flu-like symptoms. But he scored 13 points (5-of-6) off the bench in the first  — making some nice, controlled shots in the lane to go along with a trey. Not bad. Not bad at all.
These two also got some run together in the first half, which might prove to be an electric combo on both ends as the season progresses.
ZELLER'S PLAY
Another slow start for the freshman, as he scored just one field goal in the first half — a bucket at the 1:21 mark. But one wonders if Tom Crean made a point for his Hoosiers to start feeding Zeller at the break, because the team looked for him down low from the onset of the second half.  Zeller started converting and even stole a ball and went the length of the court for a dunk early in the second frame.
He finished with 16 points (5-of-6, 6-of-8 from the line), 10 boards, three steals and two blocks. Strong line.
He also got punched in the crotch (!) in the first half by Stony Brook's Danny Carter, who was ejected for his transgression. (And, if you remember, he also got intentionally fouled in the University of Indianapolis game.) While it may not be a low blow, Zeller may continue to get some abuse down on the block as he assimilates to the college game.
SHOOTING
Another hot, hot, hot shooting performance. For the game, the Hoosiers posted an effective field-goal percentage of 72.1 percent. Besides the strong shooting from Oladipo, Sheehey and Zeller, it was nice to see Derek Elston knocking down a host of outside jumpers (11 points, 5-of-6 from the field, 1-of-1 from three). Matt Roth (2-of-3from three) and Austin Etherington (3-of-3, 2-of-2 from three) also contributed in limited minutes.
Christian Watford still hasn't found his shot (just 2-of-7 this evening), but that may come in time.
WHAT IT MEANS
Heading into this one, the Seawolves' strong D and slow tempo appeared to be a combo in which the Hoosiers may have struggled to score and get out in the open court.
Ninety-six points and enough transition buckets later, Indiana blew this story to smithereens. Some are pegging Stony Brook as a tournament team, so it's encouraging to not just see Indiana win this game, but keep it out of reach for pretty much the last 25 minutes of the contest. (A 27-7 run to close out the first half helped here.)
Lots of talk about this team maturing this offseason. Tonight, there was proof of it inside Assembly Hall.
Filed to: Stony Brook Seawolves