The Minute After: University of Indianapolis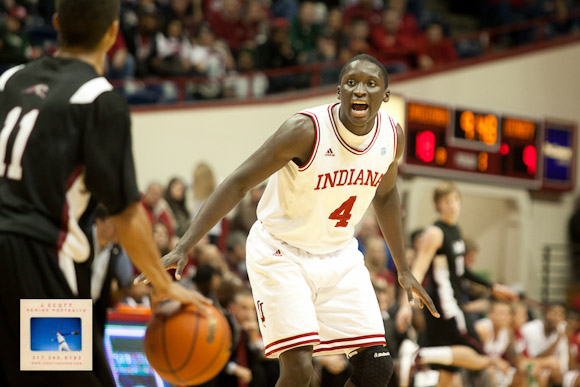 Scattered thoughts on a 90-72 win over the Greyhounds (Photo by Jamie Owens of J. Scott Sports):
BUCKETS
Indiana, as its more than capable of, shot the ball with efficiency this evening. The Hoosiers' effective field-goal percentage finished up at 59.3 percent for the game, and it received strong shooting for a host of players. Will Sheehey — who led the team in scoring with 18 points and continues to show vast improvement from last season — was 8-of-11 from the floor (1-of-1 from three). Cody Zeller, after a slow start, finished with 16 points on 5-of-7 shooting. Jordan Hulls hit all three of his shots — two of which were threes — and all six of his free throws to end up with 14 for the game. Remy Abell had a solid debut, going 2-of-4 from the field (1-of-1 from three) for five points and Derek Elston was 2-of-3 (0-for-1 from three) for four points. Matt Roth also hit two threes — the only shots of the game he took.
ZELLER
The big man didn't score his first bucket — a breakaway lay-in on a nice pass from Verdell Jones III  — until the 7:12 mark in the first half. But after that, Zeller established himself more on offense by getting the ball fed to him in the post and scoring on an alley-oop pass from Daniel Moore in the second half. The Washington native also chipped in eight boards for the Hoosiers, nearly notching a double-double in his debut. He also hit on six of his eight attempts at the line this evening.
DEFENSE
Not a whole lot to get excited about here just yet. Indiana, as it did time and again last season, failed to defend the three well, as the Greyhounds shot an impressive 47.37 percent (9-of-19) from beyond the arc. The Greyhounds also did a nice job of getting into the lane at times, though Indiana defenders were able to get into position to draw a few charges in both the halfcourt and in transition.
THE INJURED ONES
Tom Crean gave Christian Watford — who's coming off an Achilles injury — plenty of burn this evening (21 minutes), but Watford had a little trouble finding the mark as he shot just 2-of-9 from the field. (Though he was 4-of-6 from the line.) So he at least appears healthy enough to be ready to go for Friday's tilt against Stony Brook. Tom Pritchard — who's also coming off injury — only saw the court for six minutes. He had one rebound and two personal fouls during that time — one of which was a technical in the first half for getting into a scuffle with Indianapolis' Wilbur O'Neal.
ONE LAST THOUGHT …
If Sheehey continues to be an offensive threat, Indiana figures to have a lot of scoring strength from the perimeter around Zeller — especially once the offense starts putting in plays. But even without much work on offense, the Hoosiers moved the ball well and found the open man this evening.
Filed to: University of Indianapolis Greyhounds