Five Things to Watch: IU vs. University of Indianapolis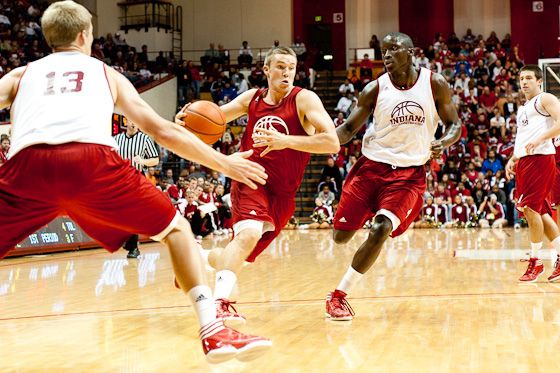 With the (exhibition) season kicking off Saturday night inside Assembly Hall, here's five things to keep an eye on as the Hoosiers take the court against the University of Indianapolis (Photo credit: Jamie Owens):
DEFENSE
It's been a theme for several weeks now; Tom Crean and the Hoosiers have spoken into many recorders and microphones about the supreme emphasis they've placed on the defensive end of the floor. Though it's only the first game, it'll be worth watching all facets of Indiana's defense. Will they create turnovers and get out in the open court? Will they show more focus and attention to a team defensive scheme? Will they not pick up ill-advised fouls?
PLAYING TIME AND ROTATIONS
As a host of players have noted, practices and workouts have been competitive. The fact is this: With more depth on this team than at any other time in the Crean era, playing time isn't going just going to fall into a player's lap. Guys preforming and playing well will see the court. But as Crean noted in his press conference yesterday, there's going to be a lot of mixing and matching because "this is the one game you can try and experiment a little bit" as it's the only exhibition game on the docket. So what happens in Saturday's game may not be indicative of what's to come. Still, some things to keep an eye on: Will the improved Will Sheehey start?  Will Austin Etherington and Matt Roth, who scored well in Saturday's scrimmage, be rewarded with some solid run? Where will Derek Elston and Victor Oladipo fit into the mix?
OFFENSE
Because of the focus on the other end of the court, the Hoosiers haven't spent much time on set plays in a half-court offense. So things on this side of the ball are likely to still be a work in progress. But whether the team looks to play through Cody Zeller early and often is worth a gander, as is whether the team will be able to get out in transition and go, another point of emphasis talked about in the preseason.
CHRISTIAN WATFORD AND TOM PRITCHARD'S STATUS
Both have been slowed by injury and Crean said in his Thursday presser they've lost conditioning. So this should be taken into consideration if either is out of sync or sees limited run. But if Watford and Pritchard come to play and play well, it should bode well for their participation in Indiana's first game of the season against Stony Brook next Friday.
ZELLER'S DEBUT
The time has finally arrived to see Zeller in the cream and crimson. Who's got the odds on whether or not a"Co-dy Zel-ler" will ring out through the rafters?
Filed to: University of Indianapolis Greyhounds