Notebook: Haunted Hall of Hoops scrimmage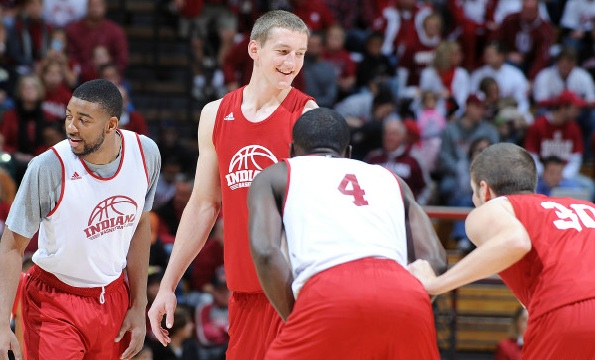 (Photo credit: IU Athletics)
After our second look at the 2011-2012 Indiana Hoosiers, Inside the Hall breaks down Saturday's Haunted Hall of Hoops scrimmage with our notes and observations from the south end bleachers of Assembly Hall:
— Will Sheehey looks ready to breakout: The sophomore wing was the subject of heavy praise in a notebook by Jeff Goodman of CBSSports.com last week and was one of the most effective players in Saturday's exhibition. Sheehey was aggressive looking for his shot off the dribble and appears to have more confidence after an offseason of improvement at the Indy Pro-Am and in the weight room. His toughness and swagger will likely propel him into the type of player that can get under the skin of the opposition. That's something Indiana has lacked in recent seasons and Sheehey appears ready to fill the void.
— A quiet, but efficient night from Cody Zeller: The highly touted freshman from Washington picked up four fouls in the first 15 minutes, but said afterward he didn't expect fouls to be much of an issue moving forward. The Crimson team didn't do the best job feeding Zeller in the post, but he made the most of the opportunities he received around the rim. Zeller logged a total of 22 minutes and ran the floor hard the whole way.
— Christian Watford "getting there": After missing time with a foot injury, Watford said he's still trying to get his wind back after returning earlier this week. The Birmingham native made a living at the foul line (8-of-11) and looked to be moving well in his 20 minutes of action.
— Solid outings from Jordan Hulls, Verdell Jones: Neither guard was spectacular, but both were steady and in control for most of the evening. Hulls appears to have established himself as Indiana's vocal leader and Jones passed the ball and created opportunities as well as anyone on the floor. The two combined for 10 assists and just two turnovers.
— Austin Etherington opens some eyes: It was only a scrimmage, but Etherington acquitted himself well in his second appearance on Branch McCracken Court. His ten field goal attempts tied Derek Elston for tops on the Crimson team and most of those looks were within the flow of the offense. But perhaps more important for Etherington was doing more than just making shots. The freshman talked afterward about his eagerness to show off his all-around game and Saturday was a solid first step. He rebounded, competed for loose balls and moved his feet well on defense.
— Matt Roth breaks free: Roth found himself wide open several times and as a result, his 17 points led all scorers. He connected on 5-of-7 shots from behind the 3-point line. If Roth can knock down shots when called upon, he could carve out a niche in his final season.
— Derek Elston rounding into pre-injury form: The injuries that claimed much of Elston's athleticism and bounce a season ago appear to be in the rearview mirror. The junior forward pulled down the most rebounds (10) of any Hoosier and was active on the offensive and defensive glass. Ryan called Elston a potential "x-factor" in his player profile and if he focuses the majority of his effort on both ends in the lane, Indiana will have an energetic piece to bring off the bench.
— Victor Oladipo, Remy Abell battle: Oladipo got the better of this matchup as he finished with 16 points and gave the freshman from Louisville consistent pressure on the ball for most of the night. Like most freshmen, Abell will have some growing pains, but he should develop into a reliable contributor on defense and as a penetrator.
— Tom Pritchard warms up, doesn't participate: The senior big man didn't play in the scrimmage, but participated in warmups and is expected to return soon following an ankle sprain.
— A look at the final numbers: Several players switched teams at halftime of the Crimson's 67-53 win over the Cream, but here's a look at the final numbers for each player:
Will Sheehey – 14 points (6-11 FG, 2-2 FT), five rebounds, three assists, three turnovers, one steal
Cody Zeller – 12 points (4-5 FG, 4-6 FT), four rebounds, two assists, three turnovers, one steal
Jordan Hulls – 10 points (4-7 FG), four rebounds, three assists, one turnover, one steal
Remy Abell – 1 point (0-7 FG, 1-3 FT), two rebounds, three assists, five turnovers
Matt Roth – 17 points (6-10 FG), two rebounds, one assist, one turnover, one steal
Christian Watford – 12 points (2-5 FG, 7-11 FT), three rebounds, five assists, two turnovers, one steal
Verdell Jones – 10 points (4-10 FG, 2-3 FT), one rebound, six assists, one turnover, one steal
Derek Elston – 10 points (4-10 FG, 4-5 FT), 10 rebounds, one assist, one block, three steals
Victor Oladipo – 16 points (7-12 FG, 2-2 FT), seven rebounds, one assist, two steals
Austin Etherington – 10 points (4-10 FG), five rebounds, one assist, five turnovers, one block, one steal
Daniel Moore – 2 points (2-2 FT), two rebounds, two turnovers, one steal
Jeff Howard – 2 points (1-2 FG), three rebounds, one assist, one turnover, one block, one steal
Taylor Wayer – 2 points (2-2 FT), one turnover
Kory Barnett – one steal
Filed to: Haunted Hall of Hoops