Big Ten Media Day: Tom Crean's breakout session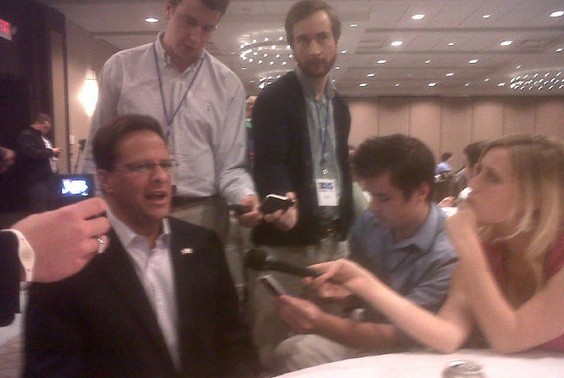 Below are some selected quotes from Tom Crean's breakout session at Big Ten Media Day.
On the difficulty of building back up the program heading into this season: "There's no gauge for it. When you start over — and I mean start over with a brand new team and the league is already pretty good … everybody thinks "Well, you're starting at zero." No you're really not. You're starting somewhere in the negative number because everybody else is already pretty good. It's not like you can catch up because they're moving forward. If everybody starts at zero, then it makes sense. But nobody did. So there's no gauge on that. We haven't been deep enough, we haven't had enough depth, we certainly haven't been talented enough at this point overall to withstand injuries. And so when you lose some key contributors on your team and you go to the bench, our guys have to do more than they're capable of doing at that point in their game and in their career — you're asking a lot of them. Hopefully that's going to help us. Verdell Jones, I don't think was being recruited by too many people early on to come in and do anything other than redshirt — maybe other people were telling him something different — but when you're 162 pounds and 6-5, you're probably going to redshirt. Well [he now] went over the 1,000-point marker for us as a junior in one of the first games. You just hope that those types of things continue to move forward."
On whether the team is tougher/more mature: "They look tougher. They're tougher against one another. Toughness really comes down to when you're down five with three minutes to go and you got to figure out a way to win on the road — that's real toughness and we have not been that group yet. That's the sustainable toughness that you want to have after you've built it up day after day by going through different things. This team needs to have some success … We never were able to build on the momentum of the Michigan win or the Illinois win like we would have wanted."
On the team's mentality: "They're hungry. I don't think there's any question about that. There's a very committed attitude to them. There's a spirit of "we're gonna be better because we're gonna do it together" type of thing. There's a spirit of they want to change things, they want to change their fortunes a little bit. And so with that, that's carried right on into practice. And we'll see how it turns out when we start playing games."
On whether the focus on defensive effort has carried over into practice: "I think we have. But I'm really anxious to see it against live bullets. What it looks like when we're playing against somebody else. There's no doubt we've spent a lot of time on that. And we had to because our defensive transition has to improve, our weakside blocking out has to improve. We've got to cut down our fouling, there's just absolutely no way around it. We've got to create more turnovers off of our defense. So really, with defense and rebouding, as commonplace as they sound, for a team that's getting more athletic, for a team that's getting more experience, for a team that's got some real talent coming in with somebody like Cody Zeller, the more you can create from your defense the more you can create off the backboards offensively and defensively, the better chance you have to score. And the other thing we want to do an even better job of is getting fouled and one way for that to happen is to get out in transition. To get out and run better. Well you don't get out in transition consistently if you're bringing it up after made baskets. So when you can get out after turnovers, when you can get out after defensive rebounds, then you have a chance to get to the foul line. We were a very good foul shooting team, but we weren't near the top in attempts at all. So those are things we have to improve upon.
On Maurice Creek: "The tough thing with Maurice getting hurt is he gets hurt on a Friday, I get a doctor's report on a Tuesday. He had just been examined a couple days earlier. He was ninety percent of the way back for us with all the strength factors and things like that that he had to have. We were certainly looking at him like a guy that was going to be a starter or fighting for a starting position at least by mid-December."
On specific players setting the bar on defense: "Improvement-wise? Verdell Jones. Consistency-wise? Victor Oladipo. We got to get a bunch of guys that improve to the rate of Verdell. We've got to get a bunch of guys that have the rate of consistency defensively that Victor does. And Victor has to raise his standards consistently. Will [Sheehey] is getting closer to that. And what they need to understand is that team defense is such a difference-maker. And what we're trying to get all of them to understand is that when you're not guarding the ball, you're always responsible for at least three things and you can not rest. You can not rest off the ball, you can not rest when the shot goes up, you can not rest on the weakside, you can not get hugged up on your man on the weakside … You can point out to any possession on the court, there's one person guarding the ball, there's four other people in a defensive position, there's at least three things that they have to be responsible for. So the point being that that altertness, that awareness — all those things have got to play into it. And that's what we're looking for consistency-wise and improvement-wise."
On the offense: "I've chosen to [not focus as much on offense]. It's a process. Offense is always a process. This year I made a concerted effort that our offensive skill improvement in the preseason was really on driving the ball, shooting the ball, certain spacing things, but there was no offense put in. We played less and less four on four in the sense of trying to get guys to understand this, understand that. It's really been a lot more centered on defense. Great example: Instead of scoring on offense, most of our drill work and our breakdown work was scoring on defense. So we've tried to put the players a little more in charge in practice on good shot, bad shot, while the coaches are focusing on on-the-ball defense, off-the-ball defense, rebounds and I'm trying to really watch technique. Four years in, we're way past having to worry about somebody playing hard enough. That was the first three years. And frankly, it was way too much. Trying to get guys to understand how hard you had to play. Because you can't be competitive if you're really trying to figure out how hard you have to go. You can become competitive after you're going hard all the time. So that's where that's taken shape and I like the upside of it."
Responding to a question about how Cody Zeller "will handle the pressure": "Who's pressuring him? His family? I don't think Cody is going to feel any pressure from anybody. I think Cody is a unique person. He's very true to himself. He knows who he is. He comes from a very grounded background. He's got a great family. Great mom and dad, great brothers. He's got a coach that has expectations for him inside of the team. Not what your expectations would be, not what somebody in the stands expectations would be, not what anyone else's expectations would be. I'm doing him a disservice if it's viewed any differently than that. And he'd be doing himself a disservice. We're not a group that's a one-man team or a two-man team. We have to be a deep team. And Cody has to be a part of that. Now, with that being said, he's skilled enough, he's talented enough that he can make the game easier for so many other people in the way that he plays to that expectation level there is in practice. But outside expectations, they mean absolutely nothing."
On the Big Ten: "The Big Ten since I've followed it, but especially since we've been in it, it's always an older league. It's an experienced league. It's a junior-and-senior-dominated league. It's an excellent coaching league … Anybody that underestimates Pat Chambers at Penn State or Doc Sadler at Nebraska will be sadly mistaken when the game ends because those guys are outstanding coaches … The coaching in this league never drops. It never drops. And the level of experience in this league never seems to drop. Now, hopefully we're closer to that with the guys we got. But we haven't won. So we have to be in the position where we have to earn those wins, we have to get some momentum so we can string some things together."
Filed to: 2011 Big Ten Media Day, Tom Crean