The Inside the Hall Mailbag: October 25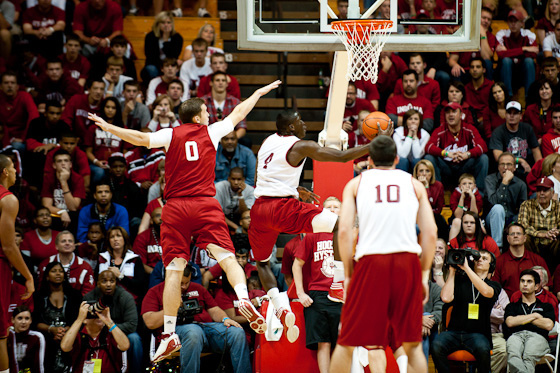 The Inside the Hall Mailbag is a collection of questions tweeted to us via Twitter (@insidethehall) and sent to us via our Facebook page. Submit your questions and we'll answer as many as we can. Now, onward … (Photo credit: Jamie Owens of J. Scott Sports)
Damon VanHook writes via Facebook: During Hoosier Hysteria, Christian Watford was in a boot, Why and for how long?
Alex Bozich: Watford was held out of Hoosier Hysteria after suffering a minor injury to his right foot, but is not expected to miss a significant amount of time. He seemed to be moving well on it during the player introductions at Hysteria and even did a little dancing, so holding him out was likely a precautionary measure. Saturday's Haunted Hall of Hoops at Assembly Hall should give us a better idea of where things stand with Watford.
@alex_idle writes: How big of a role will Remy Abell have in this offense this year? Used as an energizer on offense?
Alex Bozich: Abell's main duties will be to take care of the ball and get into the lane and finish or distribute to teammates. He probably won't take a ton of perimeter shots, but he's capable of knocking them down when given the opportunity.
But back to his ability to get into the lane because it's something Tom Crean has talked about quite a bit: This is a dimension IU didn't have a season ago. If Abell is able to do it consistently, he'll play a fair share of minutes because it will cause defenses to collapse. That in turn will open up outside shooters and create opportunities to dump the ball off to the post.
@HoosierDaddy10 writes: how is Verdells playing time and position going to shake out this season in your opinion. Starter?
Alex Bozich: Verdell Jones will likely start and play major minutes, but as I wrote in his player profile, Indiana needs him to become a more efficient player. Not to totally rehash what I wrote in that preview, but these numbers are significant: His offensive rating (which measures a player's personal efficiency) was just 94.8. That mark barely eclipsed Jeremiah Rivers (93.5) and Bobby Capobianco (93.8), who were IU's two worst offensive players. He shot just 67 percent from the foul line and a dismal 29.8 percent from behind the 3-point line. All of those numbers need to improve or it's hard to justify Jones playing such a prominent role offensively.
@IUCannon writes: what team attribute do you think the 2011 Hoosiers will improve the most from the past 2 season?
Alex Bozich: If IU is going to improve upon it's 12-20 mark, it must start at the defensive end. The first glaring deficiency that must be addressed is the fouling. Indiana shot 632 free throws last season. Its opponents shot 815.
Second, the Hoosiers have to defend the 3-point line better. Big Ten opponents shot 40 percent against Indiana last winter. And in our film session feature, Ryan broke down the problem pretty clearly from the on set of the Big Ten schedule. While it's tough to pinpoint just how improved IU could be in either of these areas until the games begin, keep an eye on both the fouling and 3-point percent defense as the season rolls along.
@hammergarland writes: Big concern for #iubb is foul trouble 4 Cody, especially in B1G on D. Thoughts?
Alex Bozich: As discussed in the previous question, this seems like more of a team-wide concern than an individual concern. Cody Zeller is a high IQ player that typically avoids putting himself into position to pick up unnecessary fouls. If foul trouble becomes a problem, it will likely be due to teammates putting him in position to bail them out of their miscues.
@hoopstrainer writes: If healthy, does IU have enough talent to make it to the NCAA tourney? Upperclassmen, Big Man, depth, etc. Anything missing?
Alex Bozich: The talent is there to make the NCAA Tournament. Whether it happens will be determined by how it all comes together. Leaping from the bottom of the Big Ten into an at-large bid is a sizable jump, but the time for the Hoosiers to win is now. Watford, Jordan Hulls and Jones have the experience. Will Sheehey and Victor Oladipo look poised to take large leaps forward. Zeller is a difference maker because of his size and versatility. And from some of the preseason comments the players are making (see Watford's comment here), this group definitely has March Madness circled as a goal.
@JSizzleCAI2016 writes: What type of season do you think Oladipo will have?
Alex Bozich: Oladipo, along with Sheehey, are keys to this year's team. Both players bring an attitude and swagger that was missing during the first two seasons of the Crean era. For Oladipo, his numbers from a year ago suggest he could be in line for a breakout with more minutes. His effective field goal percentage of 57.1 was fantastic and his offensive rebounding percentage led the team. Look for a stronger, more physical sophomore season from Oladipo where he becomes a more reliable perimeter defender and an even bigger threat to score in transition.
@bhaggard89 writes: when can the 2012 class sign?
Alex Bozich: The early signing period begins on Wednesday, November 9 and runs through Wednesday, November 16. After that, members of the 2012 can't sign again until the regular signing period which begins on Wednesday, April 11, 2012.
Filed to: Inside the Hall Mailbag, Twitter Mailbag