2011-2012 Player Profile: Verdell Jones III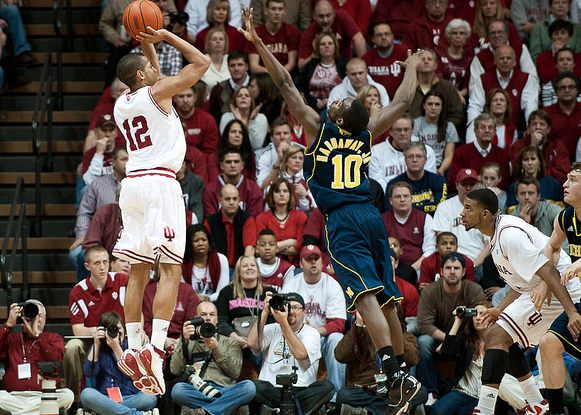 It's time for Inside the Hall's player-by-player breakdown of the 2011-2012 Indiana Hoosiers. Today: Verdell Jones III.
On the surface, Verdell Jones' numbers during his junior campaign were respectable. He averaged 12.5 points, 3.3 rebounds and 3.1 assists in just over 28 minutes per contest. Not bad, right?
Peel them back a little further and you can piece together a solid argument that the Hoosiers would have been better off using Jones in a lesser role and redistributing his minutes to more efficient teammates.
His offensive rating (which measures a player's personal efficiency) was just 94.8. That mark barely eclipsed Jeremiah Rivers (93.5) and Bobby Capobianco (93.8), who were IU's two worst offensive players. He shot just 67 percent from the foul line and a dismal 29.8 percent from behind the 3-point line. And Jones took 27.2 percent of IU's shots while on the floor, which was second highest on the team behind Christian Watford.
As Jones prepares to embark on his final season in Assembly Hall, a shift in his role could be pivotal to Indiana's hopes of climbing out of the Big Ten cellar. His low efficiency marks and high turnover rate (22.4 percent) suggest he should be using fewer possessions and playing off the ball this season. Defensively, Jones was just as responsible as anyone in the backcourt for the 40 percent 3-point mark Big Ten opponents achieved last season.
However, the problem with such a monumental shift is that Jones has logged major minutes and dominated the ball since his freshman season in candy stripes. How would he adjust to playing fewer minutes or moving off the ball and onto the wing? We may soon find out.
Best-case: Jones logs more time on the wing to better utilize his strength, which is creating mid-range shots off the dribble and using his craftiness to get into the lane. His free throw percentage increases by at least ten percent.
Worst-case: Indiana keeps Jones on the ball, he continues to use a high number of possessions and more efficient options like Victor Oladipo see fewer opportunities as a result.
Quotable: "We have to stop people this year. Last year, we played the first eight games defensively and then we just stopped playing defense. We have to keep that (defense) going for all 30-plus games. We really have to lock down and guard their best player. We don't want their guards or big men to have 30 or 20 points. We have to make it difficult for them and where they get their touches and the shots they have." – Jones to IUHoosiers.com on August 4.
All stats in this piece from KenPom.
Previously: Jordan Hulls, Will Sheehey
Filed to: 2011-2012 season preview, Verdell Jones