Notebook: Poindexter visit, 2014 visitors, more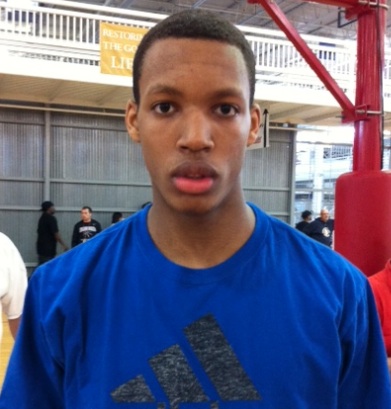 Inside the Hall had a chance to catch up with Eric Gordon All-Stars coach Brian Keeton earlier this evening to discuss 2014 North Central forward Perry Poindexter's unofficial visit to Bloomington on Wednesday.
Poindexter (pictured), who played junior varsity last season, now stands at 6-foot-7 with a 7-foot-2 wingspan and his tremendous upside has caught the eye of several Big Ten programs.
A couple of takeaways from our conversation with Keeton are blockquoted below:
Keeton on the visit: "It was a good visit. I thought things went real well. Perry really liked the staff. The visit was mostly just to get comfortable with the staff. Perry really hadn't ever had the chance to meet or talk to Coach Crean, talk to any of those guys. It was the first time he got to interact with them. Perry, he was impressed and I think they're going to start doing some good things down there."

Keeton on what college coaches like about Poindexter: "Perry's a big, big potential guy. He's got the length, he's a pretty athletic kid, he can get off the ground, he's a great defender. Finding kids that want to defend at a younger age is kind of tough to do. He runs the floor extremely well."

Keeton on the comparisons to former Purdue standout JaJuan Johnson at the same stage: "A lot of people give you the comparison of JaJuan Johnson. I know JaJuan real well. He played at the same high school I did. If Perry wants to work as hard as JaJuan used to work, then he's got an opportunity to do some similar things. I think they compare him a lot because of body type and the fact that coming into college, JaJuan was more of a defender. Everybody was expecting him to be better on the defensive end than the offensive end. Perry's at the same stage. He's a better defender than he is an offensive player."
The latest on 2015 Cathedral guard
Kyle Neddenriep of The Indianapolis Star tweeted that the Indianapolis Cathedral freshman point guard will visit Notre Dame for the USC game on October 22. Coleman already has offers from Indiana and Notre Dame and is also hearing from Illinois, Michigan, Michigan State and Ohio State. He's expected to take a visit to Champaign-Urbana this fall for a football game.
2014 prospects from Kentucky to visit this weekend
Four of the top 2014 prospects from Kentucky — Jordan Green and Trey Grundy of Lexington Henry Clay, Shane Hall of Johnson Central and Justin Johnson of Sheldon Clark — are expected to take unofficial visits on Saturday for the Indiana-Virginia football game at Memorial Stadium. Green and Grundy were teammates this summer along with D'Angelo Russell on the Louisville Magic while Hall and Johnson played for the Kentucky Kings.
2014 Wapahani guard will also be in town
Also via Kyle Neddenriep of The Indianapolis Star is news that 2014 Wapahani guard Grant Evans will be in Bloomington for an unofficial visit this weekend. Evans, who we wrote about at the GRBA Nationals in Fort Wayne in late July, also has visits scheduled to Michigan (September 17) and Minnesota (September 24).
Hoosiers still atop Rivals 2012 team rankings
Indiana's 2012 recruiting class is still No. 1 nationally in the latest Rivals.com rankings released on Wednesday.
Filed to: Grant Evans, Jalen Coleman, Perry Poindexter