Around the Hall: NBPA Top 100 Camp, more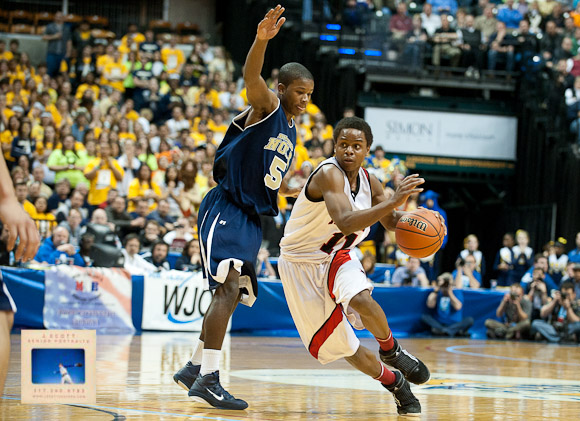 Around the Hall is recommended reading from the Inside the Hall crew. So go ahead, get your read on. (Photo credit: Jamie Owens of J. Scott Sports)
— Jody Demling of The Louisville Courier-Journal wraps up day one and day two of the NBA Players Association Top 100 Camp with updates on the Indiana commitments and targets. Demling also caught up with Ferrell for a video Q & A as well as Hanner Perea.
— Kevin "Yogi" Ferrell was among the standout players on day one of the camp according to ESPN.com's Paul Biancardi. Ferrell was also a standout on day two.
— A four-game shootout on February 4 at Lawrence Central will feature eight Indiana recruits.
— Park Tudor freshman Troy Spears sat down with Tom Crean recently on an unofficial visit to Bloomington.
— The Big Ten agreed to a multi-year contract extension for men's basketball on Thursday with CBS Sports.
— Thad Matta's top assistant at Ohio State, Brandon Miller, resigned to spend more time with his family.
— New Arkansas coach Mike Anderson is refusing to release guard Rotnei Clarke for a transfer.
— The NCAA is cracking down on rules for "elite" camps by sending its enforcement staff on unannounced visits around the country.
Filed to: Hanner Perea, Troy Spears, Yogi Ferrell