Ed DeChellis bolts Penn State … for Navy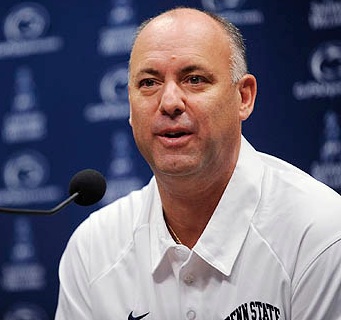 Just a little over two months after leading Penn State to its first NCAA Tournament appearance in ten seasons, Ed DeChellis is leaving University Park to become the head coach at Navy.
ESPN.com's Dana O'Neil broke the news earlier this afternoon:
Penn State coach Ed DeChellis has be named coach at Navy. DeChellis replaces Billy Lange, who left Navy to become the associate head coach at Villanova.

"I'm thrilled and honored to be the next head basketball coach at the United States Naval Academy," DeChellis said in a statement. "I look forward to the challenge of not only winning the Patriot League Championship and taking Navy back to the NCAA Tournament, but also helping young men become future leaders of this great nation of ours. I look forward to meeting the players and talking to the recruits and starting the process of getting Navy Basketball back on the national stage."
The move by DeChellis, a Penn State alumnus, seems to be motivated by a perceived lack of respect from school administration as well as job security according to David Jones of The Patriot News:
DeChellis, now 52, is not interested in coaching more than another 8-10 years. He felt a lack of respect and commitment from the Penn State administration. He was unable to get an extension or raise on a contract lasting three more seasons. His daughters have completed college and are out of the house. His wife Kim, I've been told, loved the idea of living in a beautiful area bordering the major metro of Washington/Baltimore.

And, most of all, he was wanted.

Salary, according to a dependable source at the U.S. Naval Academy, will be a mere $450,000 per year over five seasons. DeChellis was making $650,000 annually at PSU. But not only was he under jeopardy of not being renewed after his contract ran out in 2014 but he clearly believed a sub-par season in 2011-12 would result in his firing. He apparently decided job security was worth a dip in salary.
If you had any reservations about calling Penn State the worst hoops job in the Big Ten, you can now tuck those safely away. At this late stage of the spring, it's hard to imagine the Nittany Lions hiring an existing head coach particularly given the fact that Talor Battle, Andrew Jackson and Jeff Brooks are all graduating. Then again, replacing the success of DeChellis shouldn't be difficult given the 117-139 record he compiled over eight seasons.
Filed to: Ed DeChellis, Penn State Nittany Lions