Indiana looking at 2013 point guard Jalen James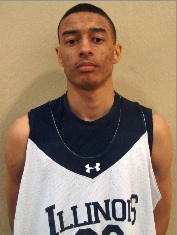 With a pair of wings — Collin Hartman and Devin Davis Jr. — already on board, Indiana continues to look for point guard help for its 2013 recruiting class.
Word of God (NC) Josh Newkirk surfaced on the radar a couple of weeks ago and this week, Illinois Wolves director Mike Mullins tweeted that Indiana is beginning to show interest in Chicago Hope Academy's Jalen James.
Add IU to schools on 2013 PG Jalen James
The 6-foot-3 James is considered a pure point guard, but is only in the beginning stages of the recruitment process.
"He's just going through the process," James' brother, Jonathan, told Inside the Hall on Tuesday. "It's new. He's basically just focusing on AAU. He won't make a decision until his senior year."
The list of schools showing interest in James is lengthy. According to James and his brother, Baylor and Cleveland State have offered and DePaul, Dayton, Illinois, Michigan, Missouri, Tennessee, Wisconsin and Xavier have all expressed interest.
Rivals.com listed him among the 2013 players from Illinois that will receive strong consideration for the top 150 when the rankings expand.
But despite the early offers and attention, James has no favorite and is focusing on improving his game this spring and summer.
"I'm working on my jump shot. Strength wise, I'm trying to get bigger and also work on my speed," James, who is working out at Chicago's Attack Athletics, said on Tuesday.
Another significant part of the Chicago point guard's game is defense, which he said was the first thing he was taught in basketball.
"Ever since I was younger, I was shorter than everybody," he said. "So I had to get my points off of steals, that's why I love defense so much. I was really the shortest player when I was younger, but I hit a growth spurt, so now it's just carried on with me. I just love defense."
Video of James after the jump …
Filed to: Jalen James