Gary Harris discusses recruitment in radio interview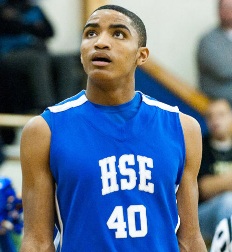 2012 Hamilton Southeastern guard and IU recruiting target Gary Harris was a guest on "Ahead of the Curve" on Saturday morning on 1070 The Fan in Indianapolis.
Hosts Chris Hagan and Kent Sterling talked to the five-star junior about a variety of topics and we've transcribed some of the more interesting things Harris had to say below. The full interview can be heard at this link.
On the hype surrounding him and if it gets to be too much:
"I don't think it's too much. It just comes with it. I wanted to be a good basketball player so I worked hard at it. It's just what I have to deal with. I enjoy it because I'm only going to go through it once. I'm just having fun with it, I'm not trying to let it get to me."
On what he's trying to improve upon the most:
"I would say my consistency shooting the ball, but that's not just the main thing. I'm trying to work on all parts of my game because there's no one part that's good and can't get any better. I'm just trying to make my total game better and work on all aspects of my game."
On whether the recruiting process is weighing on his mind every day:
"You just have to manage it. I think my parents take a lot more calls than I do. They try to shield a lot of that stuff away from me so I don't have to think about it so much and so I can just be a normal kid at times. Every day I'm thinking about it because sooner or later I'm going to have to make the decision and it's going to be one of the biggest decisions of my life since it's my college. It's not just going to affect my four years while I'm there, but it's going to affect the four years after I'm done so I just have to think about it and decide what school's going to be best for me."
On what he's learned from playing football that he can apply to basketball:
"I would just say taking hits. In basketball, I get bumped going to the rim, taking hard falls. I'm used to it. I'm used to the physical contact because I play football. It's nothing that I haven't seen since football is a lot more of a contact sport than basketball."
On a timeline for a decision:
"That's a good question, I wish I knew that. I could wait until next year end of basketball season if I wanted to. I'm just worried about getting better right now. I feel like I find the right school, feel like I'm comfortable enough to commit to a school then I'll do that."
Filed to: Gary Harris