Zeller, Washington repeat as Class 3A champs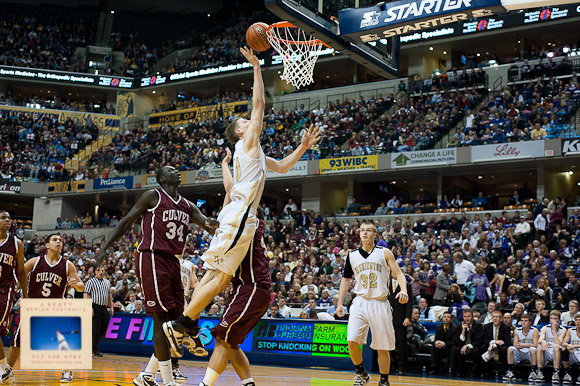 (Photo Credit: Jamie Owens of J. Scott Sports)
INDIANAPOLIS — Cody Zeller is a state champion for the third time. And this year, Zeller and the Washington Hatchets didn't need overtime to win the Class 3A title.
The IU signee and McDonald's All-America scored a game-high 20 points and grabbed 18 rebounds as Washington beat Culver Academies 61-46 on Saturday at Conseco Fieldhouse.
It was the 17th consecutive win for the Hatchets (24-4).
"He's just a great young man. A high character man," Washington coach Gene Miiller said of Zeller, who received the Arthur L. Trester Mental Attitude Award. "A great student and a very good basketball player. He's the total package. He does everything well."
The victory gave Washington its fourth state title in seven seasons.
Unlike last year's meeting with Gary Lew Wallace, the result was never in doubt after the opening eight minutes. After trailing by one at the start of the second quarter, the Hatchets reeled off an 18-6 second quarter to take control.
Zeller, who scored 20 points and pulled down 26 rebounds in last year's championship game, reflected on the repeat and his time at Washington afterward.
"It's definitely fun winning it," he said. "It's better every time. I wouldn't have done it without my teammates and coaches. In 2008, I don't think I would have won it without that one teammate of mine."
Watch the entire Washington postgame press conference after the jump.
Filed to: Cody Zeller