Bluiett, Ferrell lead Park Tudor to 2A title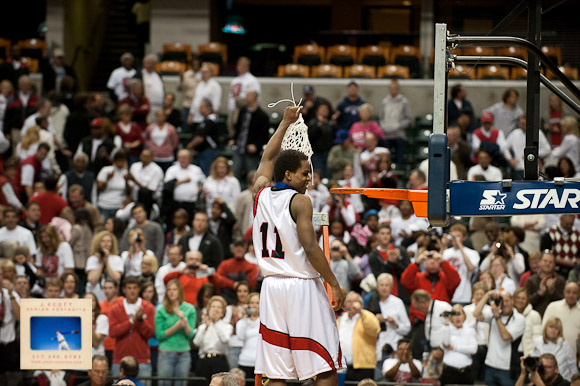 (Photo Credit: Jamie Owens of J. Scott Sports)
INDIANAPOLIS — Park Tudor guard Kevin "Yogi" Ferrell set a goal of winning a state championship in the minutes following last season's 41-38 loss to Wheeler in the Class 2A title game.
On Saturday, it was mission accomplished as Ferrell and his Park Tudor teammates knocked off previously unbeaten Hammond Bishop Noll, 43-42, in front of 11,035 fans and a statewide television audience.
"All of the hard work, I didn't want it to stop here," Ferrell said. "I definitely wanted to come out with seven wins in March and that's what we did."
Unlike the majority of Park Tudor's run to Conseco Fieldhouse, Ed Schilling's team needed all 32 minutes to get the job done.
"What a terrific performance, gutty performance," Schilling said. "You fall behind by nine points, to be able to crawl back in it, I take my hat off to these guys and their competitiveness."
The Panthers (26-2) trailed from the 6:28 mark in the first quarter until the 1:22 mark in the game's final quarter.
That's when Park Tudor freshman Trevon Bluiett grabbed an offensive rebound, collected himself, scored, was fouled and hit a free throw for the game's final three points.
Bluiett admitted to being a little nervous coming into the game, but was able to deliver 16 second half points.
"You can never show it to your opponent," Bluiett said of the pregame jitters. "You don't let them know you have fear or you're nervous. That's what I've been doing my whole basketball career."
Bluiett finished with a game-high 21 points on 8-of-13 shooting and grabbed eight rebounds.
Ferrell, the junior IU commit, struggled from the field (6-of-15), but finished with 14 points, six assists and five rebounds.
"My shots weren't really falling all game," Ferrell said. "I was trying to just drive and hit guys on the block."
Watch the entire Park Tudor postgame press conference after the jump.
Filed to: Ed Schilling, Trevon Bluiett, Yogi Ferrell