That's A Wrap: Victor Oladipo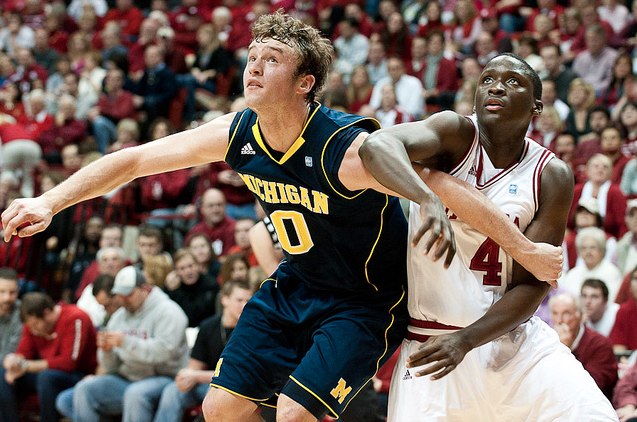 Welcome to "That's A Wrap," our attempt to make some sense of the 2010-11 season. Sit back. Relax. Grab some popcorn. Get your read on. Today: Victor Oladipo.
Final Stats (32 games): 7.4 ppg, 3.7 rpg, 1.1 spg, 54.7% FG, 61.2% FT in 18.0 minutes per game
It was a strong freshman season for DeMatha High School product Victor Oladipo.
On a team that had lacked depth the first two seasons under Tom Crean, Oladipo was often instant energy off the bench — though he started a fair amount of games for the Hoosiers as well. And on a team that had also been lacking an athletic punch, a guy that could really throw down, Oladipo's penchant for breakaway dunks off steals was a welcomed change. In fact, Oladipo's steal percentage (3.6) ranked him 86th in the nation.
For not playing down on the block, the freshman was also a terrific offensive rebounder, racking up the highest offensive rebounding percentage (11.0) on the entire team. Per 40 minutes, Oladipo also drew the most fouls on the team (5.1) outside of Christian Watford (6.5) and Verdell Jones (5.4) by using his athleticism to cut the hoop and draw contact.
In games where the Hoosiers couldn't seem to get anything going and lacked energy, it was sometimes Vic's offensive rebounding and spunk that kept things going.
He's just a fun player to watch.
Of course, where Oladipo sometimes got into trouble was going for the highlight over the fundamental play, the flash over just getting the job done right. And though he get to the line a good amount, he only converted 61.2 percent of the time which was second worst of IU players getting regular minutes. (Tom Pritchard brought up the rear at 34.8 percent.)
Defensively, it appeared as if Crean started to use Oladipo as his stopper when Jeremiah Rivers was on the bench at the end of the season, a role his athleticism could play a large part in heading forward.
Shining moment: Sixteen points on 7-of-9 shooting in a loss to Colorado on Dec. 23.
Bottom line: Oladipo had a solid freshman campaign. But with Austin Etherington coming in next season and a potential dynamite 2012 class on the way, he'll need to continue to improve year over year in order to keep his spot in the rotation and be a factor going forward. If he does just that, his future in the cream and crimson is bright.
Filed to: Victor Oladipo