Hollowell decision won't determine Harris' future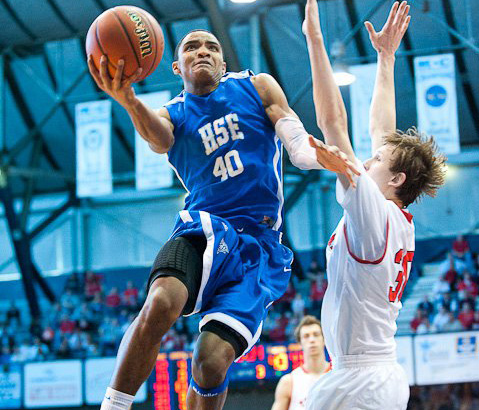 (Photo via Jamie Owens of J. Scott Sports)
His friend Jeremy Hollowell's college recruitment appears to be headed toward its end, but Gary Harris says he's still focused on "which school's going to be the best place for me."
Speaking to Inside the Hall on Monday night, the Hamilton Southeastern junior guard said he's been impressed with the future being built in Bloomington, and he considers IU one of his "heavy hitters" right now. Still, the 6-foot-4 guard said he's taking his time, an approach he's been consistent in taking throughout his recruitment.
"They're gonna have a pretty good team here pretty soon," Harris said of Indiana. "Of course I'm gonna look at it."
Hamilton Southeastern's season ended with a 83-72 loss to North Central in the regional final at Hinkle Fieldhouse. The Royals finished 20-4 on the season, and their only other losses to teams in Indiana were a two-point defeat against North Central in December, and a four-point loss at home to Pike on Feb. 15.
But it was also a revelatory season for Harris, who said he took on a larger leadership role within his squad.
"I kind of had to take the lead, and help players out," Harris said. "There's just so much more that's asked of you."
A two-sport star who has also started to turn heads with his play on the football field, Harris admitted he's "not burning any bridges" when it comes to entertaining the idea of playing football beyond high school. Still, he called basketball "the sport I plan on playing in college," and at present anyway, he seems to have plenty of options in that sport. Along with IU, Harris mentioned Louisville, Michigan State and Purdue as schools high on his radar.
Playing two sports in college, however, doesn't seem like Harris' first choice right now.
"It sounds good to play two sports in college, but that'd be a lot of work," he said. "I know it's been done, but honestly I'm not sure (if he wants to)."
Gary Harris Updates:
– Harris, Irvin lead Hamilton SE past Lafayette Jefferson (February 25, 2011)
– Gary Harris shines in 62-51 win over Fishers (January 5, 2011)
– Harris not surprised at Indiana's recruiting resurgence (November 22, 2010)
– Indiana "very high" on Harris' list following weekend visit (October 3, 2010)
– Hamilton Southeastern's Gary Harris: A two-sport star (August 11, 2010)
– 2012 Intro: Hamilton Southeastern's Gary Harris (May 24, 2010)
Filed to: Gary Harris, Jeremy Hollowell