The Minute After: Illinois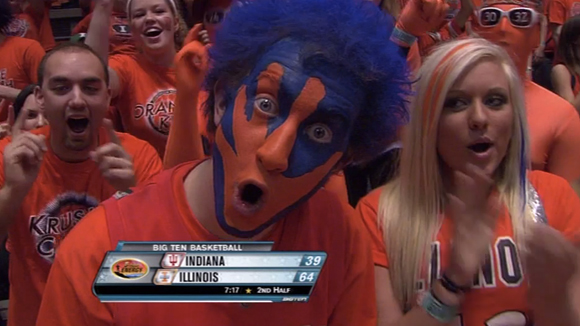 Thoughts on a 72-48 spanking at the hands of the Illini:
Beatdown in Champaign today, kids.
The Illini, when they play this well, are just too much for a team like Indiana. They have more size on the interior. They have more athleticism on the perimeter. Oh, more experience and talent, too.
These mismatches were exploited on both ends of the floor all game — the emotions swirling around senior night, er, afternoon surely helped with this — and the Hoosiers, a team on a quick turnaround from Thursday night's loss, were really never in this game.
Demetri McCamey (22 points) got off to a hot start in the first half, and it was one giant orange snowball that kept building and rolling over the Hoosiers all afternoon. When the Illini weren't scoring with ease around the bucket, they were locking down defensively in the halfcourt, making it difficult for the Hoosiers to find any sort of rhythm or success on offense.
The next thing you knew, Illinois had dropped 46 points by halftime on 54.3 percent shooting (5-of-11 for 45.5 percent from three), after only managing 49 points in their first contest with the Hoosiers earlier this season.
And though the offense slowed some in the second half, the Illini often toyed with the Hoosiers with a series of alley-oops.
They were smiling. They were having fun.
It was the difference between a team that's feeling better about itself heading into the Big Dance and one that's failed to win away from their home court this season, and is limping to the finish line of 2010-11 on what is now an eight-game losing streak.
Other notes:
+ Building off Thursday's performance, Indiana again did a good job taking care of the basketball, as the Hoosiers only turned the ball over 10 times this afternoon. And they also kept their foul issues in check, as they only committed 13 personal fouls on the Illini, who went to the line just 13 times. But a rough shooting performance from Indiana — 31.6 percent from the floor (18-of-57); 17.6 percent from three (3-of-17) — kept the Illini out of reach.
+ Nice game from the hometown boy Verdell Jones today, as he was about the only bright spot on offense, save Will Sheehey. Jones played to his strengths in the mid-range for 12 points (6-of-14, 0-of-2 from three) and created by himself at times when nothing else was doing.
+ Jordan Hulls failed to make a shot from the floor (0-of-7, 0-of-3 from three), though he did hit all four of his free throws. Christian Watford finished the afternoon 1-of-8 (0-of-4 from three, 5-of-6 from the line). That's a 1-for-15 performance from two of Indiana's top offensive players. That's not good.
+ Illinois blocked five of Indiana's shots in this one. Couple that with a 24-point loss and it felt like we were watching the Hoosiers of Crean's first two years in this one at times.
Filed to: Illinois Fighting Illini