The Minute After: Wisconsin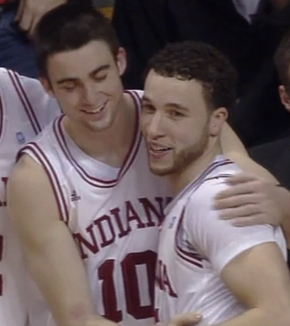 Thoughts on a 77-67 loss to the Badgers:
Hats off to the Hoosiers.
On senior night, they played with the maturity of a team with more than just one in the lineup.
In fact, it was a similar style to their opponent: A low-turnover (just five), efficient performance.
And, if you can believe it, they calmed their incessant fouling (19 fouls) enough that Wisconsin committed more (22) and shot less free throws (20-of-22) than Indiana (21-of-26). Finally, a net positive in that department.
When you don't turn the ball over, get to the line more than your opponent and shoot well enough (46.8 percent) — you give yourself a chance against good teams, as Indiana did tonight. This version of Indiana  — had they shown up for more than just this evening — would be flirting with .500, or maybe even on the right side of it.
But there was one man who would not be denied. Jordan Taylor dropped a career-high 39 points. And it was a HARD 39. Taylor hit a dizzying amount of bailout buckets as the shot clocked danced near zero. He sunk three after three with a palm in his nostrils. He hit all 10 of his free throws.
It was just a little too much.
After senior Jon Leuer went out with his fourth foul at 11:37 in the second half, Taylor scored 17 straight points for Wisconsin. What was once a one-point deficit for IU ballooned to 13 by the 6:19 mark.
And then Wisconsin went all Wisconsin on the Hoosiers: working the shot clock, maximizing its possessions and hitting its free throws. It was just too strong a wall to break through.
Indiana shoot just 2-of-11 (18.2 percent) from beyond the arc.
A few more triples — say seven, the Wisconsin-record-tying amount Taylor hit tonight —  and maybe things turn out with Assembly Hall's faithful storming the court.
A final thought:
We'll get to this more in our end-of-the-season player profiles.
But wanted to make sure to mention Jeremiah Rivers on senior night. Hats off to him as well.
He came from a Final Four appearance to a program in ruins, and though it was rocky at times, I will remember him as a young man who decided to swallow his pride and accept his role as an elite perimeter defender this season — and these players are so IMPORTANT — and performed admirably in it. He leaves Assembly Hall with his head held high, the crowd chanting his name and his father looking on with pride.
All senior nights at Indiana should end like this.
That's all for me. Gettin' late.
Filed to: Wisconsin Badgers