The Minute After: Ohio State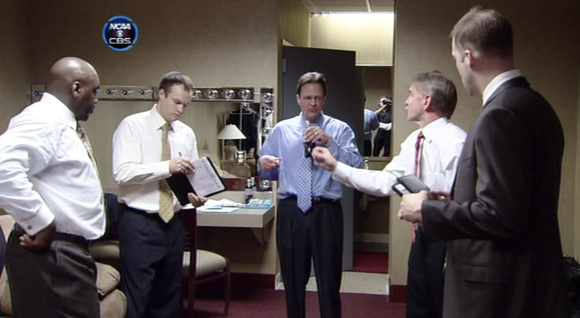 Thoughts on a 82-61 blowout at the hands of the Buckeyes:
Unwatchable.
For maybe the first time all season, that's what Indiana became this afternoon in Columbus.
This was a game that even with limited production from Jared Sullinger (0 field goals, five points all on free throws, sat out all but three minutes in the first half because of foul trouble) and Jon Dielber (just 2-of-7 from three) Ohio State still dominated from start to finish. The Hoosiers just never really got into this game.
It often felt like Indiana the last two seasons under coach Tom Crean: Not enough talent, not enough experience, but bringing plenty on hustle.
This is the reality of the Indiana program right now: The gap between the Hoosiers, a team set to finish at the bottom of the Big Ten for a third straight year, and the Buckeyes, a team set for a No. 1 seed in the NCAA Tournament, is a big one.
In the first half, Indiana missed all eight of its 3-point attempts, and had more turnovers (10) and fouls (13) than field goals (9). And though Sullinger was a non-factor in that half, freshman and Indiana native Deshaun Thomas filled in admirably, scoring 16 points in 10 minutes (6-of-7 from the field, 2-of-3 from three). He finished the game with 22 points.
Crean busted out a full-court press for a long stretch in the second half, but the Hoosiers trailed by 20 or more for almost that entire frame. OSU alley-oops were frequent.
Chicago Bulls TV color man Stacey King often says "too big, too strong, too fast" after point guard Derrick Rose rips off an impressive move to the bucket for two.
On a day like today, that was Ohio State: just too big, strong and fast for the Hoosiers.
Other notes:
+ Verdell Jones had a quiet 14 points, as he hit two threes in the second half to try and narrow the gap. Christian Watford (12 points) was the only other Hoosier in double figures. Jordan Hulls finished 1-of-9 (1-of-5 from three) for only three points.
+ Indiana shot just 38.5 percent from the floor (20-of-52) and 27.3 percent from three (6-of-22).
+ The Hoosiers again put the opponent on the line an unhealthy amount of times, as Ohio State went 27-of-36 (75 percent) from the line. Indiana did a decent job of getting there itself, though, making 15 of its 20 attempts (75 percent).
Filed to: Ohio State Buckeyes