Film Session: Burned by the back cut
Bill Carmody's offense thrives on its never-ending motion, trust, sound passing and back-door cuts.
Before taking the Northwestern job in 2000, it's a style he mastered during his 18-year tenure at Princeton — hence its Princeton offense moniker  — as both an assistant under Pete Carril (1982-1996) and head coach (1996-2000).
A look at three of Northwestern's sharply-executed back cuts in the latest edition of Film Session.
NO. 1) CURLETTI TO SHURNA
Before the Big Ten Network broadcast cuts to the traditional side-court view, Juice Thompson brings the ball up the court and hands it off to Drew Crawford on the left wing: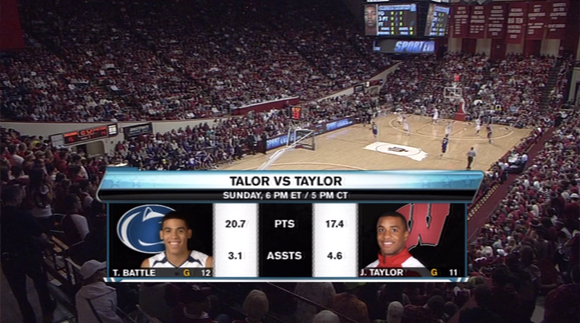 Crawford passes the ball up top to Shurna: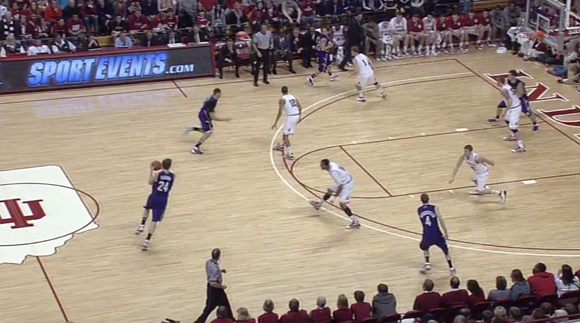 Who dumps it into Davide Curletti on the left elbow: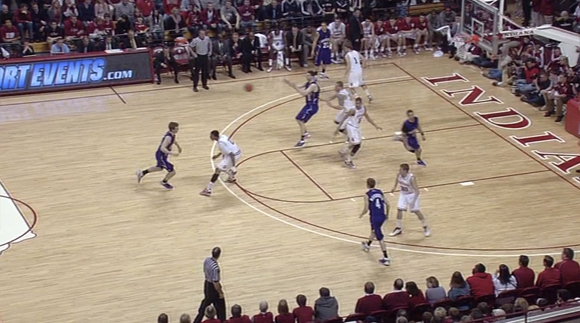 Here's where the back-door action starts to take place. Shurna fakes a pick on Matt Roth for Alex Marcotullio to come to the top of the key: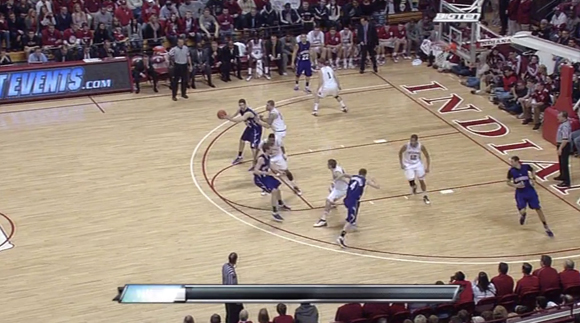 Roth does a good job of sticking with Marcotullio — who flashes to the basket. But a subsequent head fake from Shurna on Christian Watford gives him the separation needed on a back-door cut: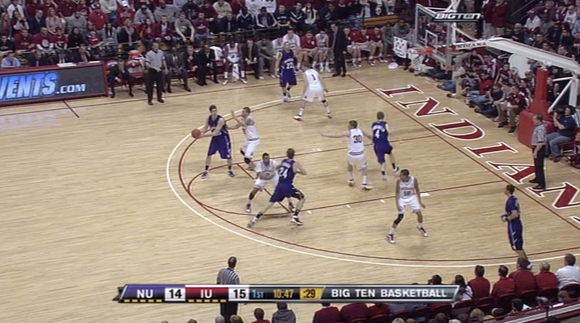 Curletti hits Shura in stride with a pass. And it's two points for the Wildcats: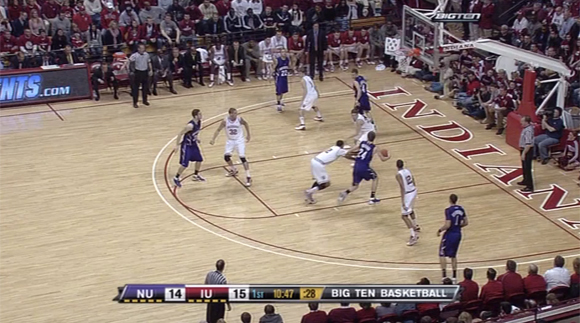 Strong set from Northwestern after an Indiana turnover led to a timeout.
IN FULL:
2) OVERPLAYING THE PERIMETER
Thompson brings the ball up the court, passes to Mike Cappoci on the right wing and begins to cut through to the weakside: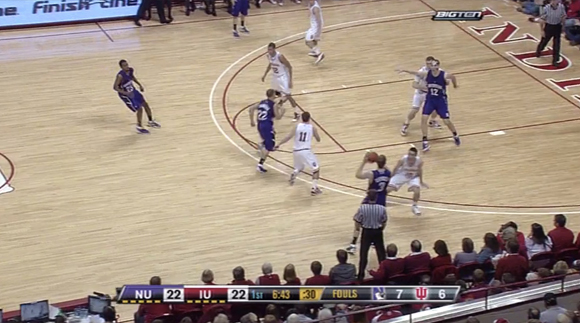 Cappoci enters the ball into Luka Mirkovic: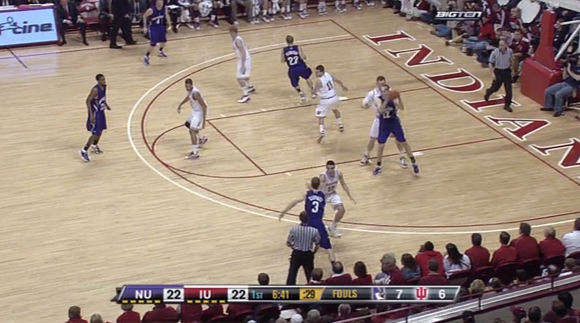 Cappoci cuts to the basket, but Will Sheehey denies the pass: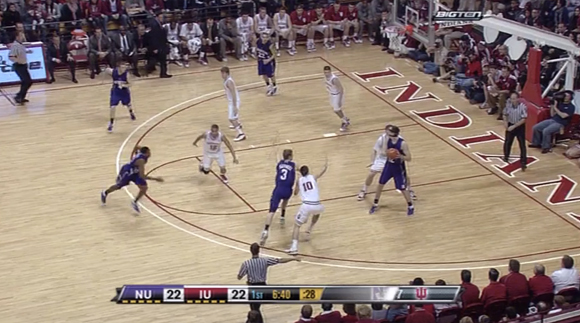 Mirkovic kicks it up top to Marcotullio: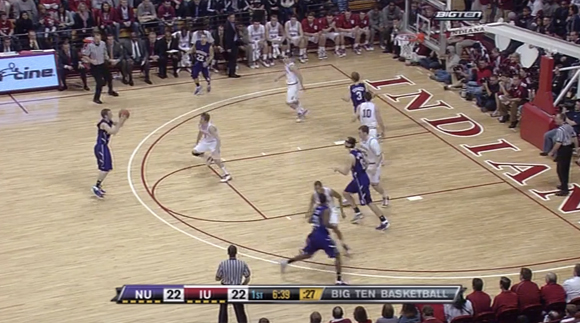 Marcotullio dribbles over closer to Thompson, who has hit back-to-back threes on Northwestern's last two possessions. As such, Daniel Moore plays him tight on the perimeter. Thompson senses this and darts towards the hole: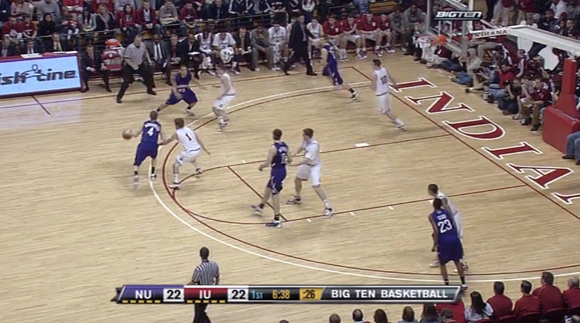 Moore fouls Thompson before he gets to the cup. But with the foul-heavy Hoosiers having already put Northwestern in the bonus, Thompson sinks two free throws. Two points are two points.
Heady play for the crafty, experienced senior who holds Northwestern's record for most career starts.
IN FULL:
NO. 3) ELSTON FOOLED
Out of another timeout like play No. 1, Thompson passes the ball into Mirkovic: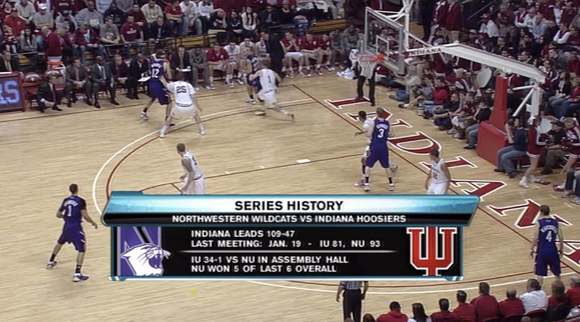 Who hands it back off to Thompson: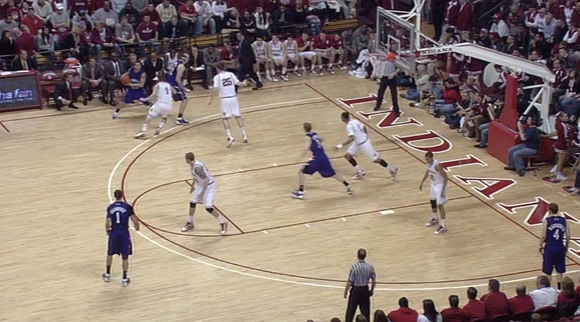 Thompson passes it to Capocci as Mirkovic sets up on the high post: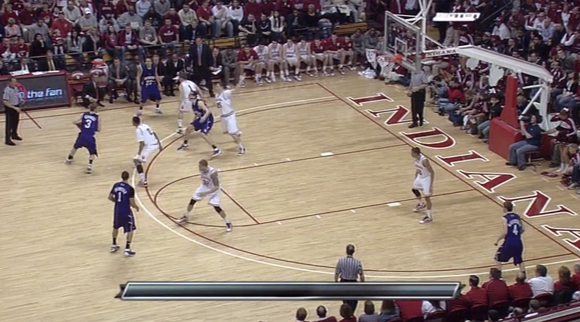 Capocci gives it back to Thompson as Mirkovic now has clear position on Tom Pritchard. Verdell Jones sinks into the lane: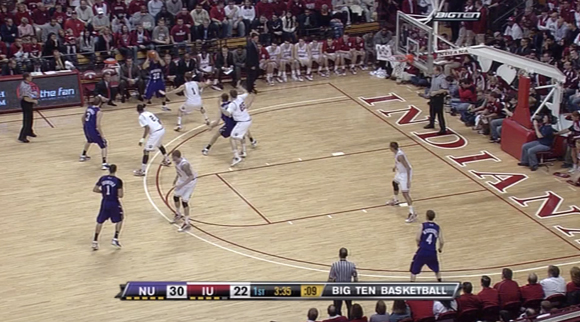 Mirkovic ends up getting the ball closer to the rim near the low block as Verdell comes to double: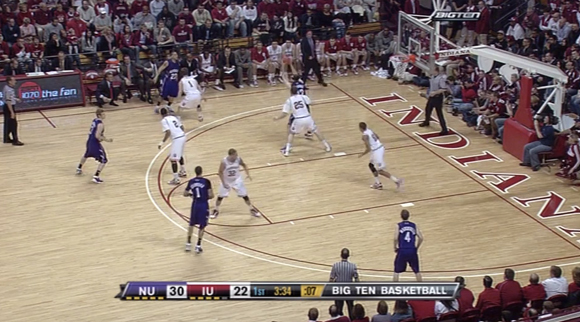 Now double-teamed, Mirkovic appears to go into a shooting motion. Elston slides down to cover Marcotullio on the weak side: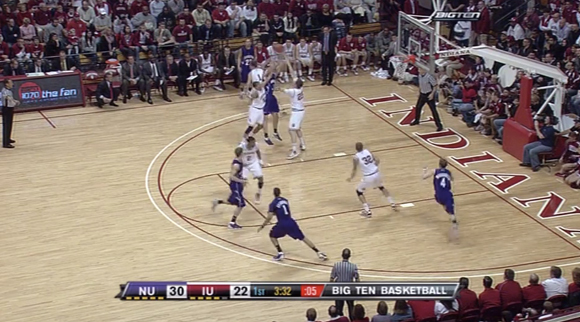 Mirkovic actually ends up passing the ball out of that motion to Marcotullio under the basket, which fools Elston: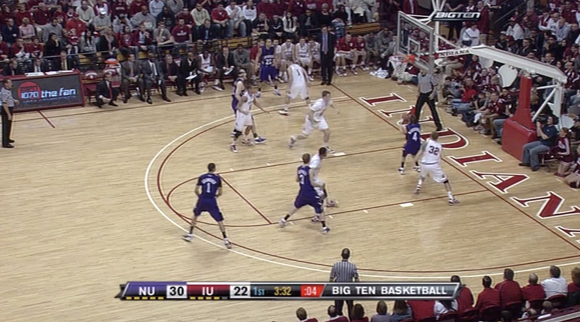 And it's a reverse lay-up to put Northwestern up 10 as halftime nears: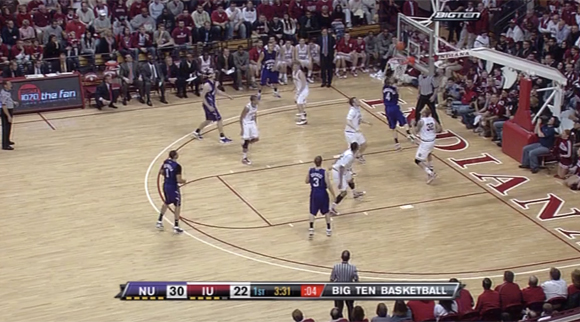 Indiana's man-to-man defense often cheats a player into the lane like we saw on this Northwestern possession. Here, out of another timeout, Carmody exploited this with a completely different back-door cut that achieved similar results.
IN FULL:
CONCLUSION:
Indiana lost both conference games against the Wildcats this season. In the first matchup in Evanston, Northwestern hung 93 points on the Hoosiers, the most they've allowed all season. In their second matchup against Carmody's club on Saturday, they allowed far less points (70). But Northwestern's sound execution of its unique-to-the-Big-Ten offense by veteran personnel — one that ranks fifth in the conference (1.07 points per possession) — against Indiana's work-in-progress defense (second worst in conference at 1.11 points per possession) befuddled the Hoosiers this season.
Maybe next year?
Filed to: Northwestern Wildcats