The Minute After: Northwestern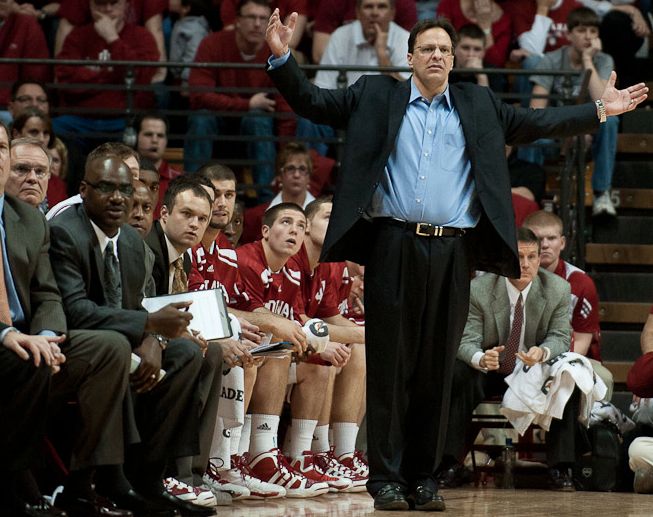 (Photo credit: Jamie Owens, J. Scott Photography)
Thoughts on a 70-64 loss to the Wildcats:
So much for that full week of preparation.
Indiana came out flat in this one.
And just when it looked like the Hoosiers might finally push ahead in the second half, Northwestern either answered the call or Indiana turned the ball over in a frustrating fashion.
Six of seven wins for these Wildcats over the Hoosiers including their first two wins ever inside Assembly Hall. Their second win in their last 15 road tries in the Big Ten. Oy.
In the first half, Northwestern's seven 3-pointers opened up their back screens, allowing the Wildcats to drop 40 points. It was textbook Bill Carmody offense at work, executed by kids that have done it time and again. Indiana was often hesitant on offense in the first 20 minutes as well, as Northwestern's 1-3-1 kept them from getting into a flow.
Indiana's offense opened up in the second half on the strength of some dribble penetration, and it allowed for some cutters off the wing to get some nice looks around the rim. The Hoosiers also got after it on the offensive boards and tightened up on D.
But as noted above, every time Indiana looked like it might break through and the Assembly Hall faithful roared, the Hoosiers just couldn't get over the hump.
Indiana shot well from the field (23-of-46, 50 percent), but were bested from beyond the arc — 4-of-13 (30.8 percent) to Northwestern's 11-of-24 (45.8 percent) — and at the line where Northwestern shot 84 percent (21-of-25) to Indiana's 14-of-19 (73.7 percent) performance, and that was pretty much the difference.
I suppose if there's anything to be learned from IU's season series with the Wildcats, it's that experienced seniors matter, regardless of the team name on the front of the jersey.
Other thoughts:
+ Indiana continues to foul and foul and foul. It went both ways tonight as Northwestern racked up several as well. But it was yet another night where Indiana — far and away worst in the conference in opponents' free-throw rate — allowed the opposition more trips to the line then it got. And as noted above, Northwestern capitalized in a big way (21-of-24).
+ Indiana returned to its old self at times in the turnover department tonight, as the likes of Jeremiah Rivers and Jordan Hulls made passes at their teammates' feet, through their legs or right to Norhwestern. While it didn't quite kill them — Northwestern (11 turnovers) and Indiana (12 turnovers) came out even in points off turnovers (12) — the mental lapses didn't bring the Hoosiers any closer to victory, either.
Filed to: Northwestern Wildcats