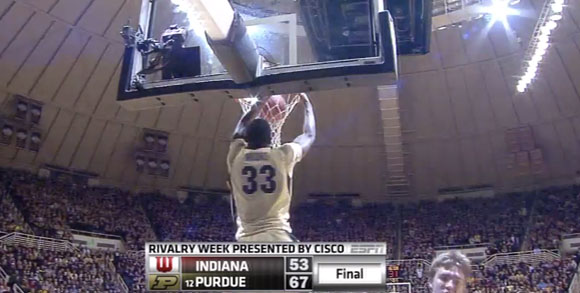 Thoughts on a 67-53 loss to Purdue:
Tonight's performance reminded us a bit of the Hoosiers of old.
Missed shots — 22-of-62 from the field for 35.5 percent, 2-of-13 from three for 15.4 percent.
Blocked shots — eight swats for Purdue with JaJuan Johnson notching four of those.
Credit is due to Matt Painter's kids, who entered the game at fourth in the Big Ten in allowing 1.05 points per possession to their opponents. Purdue's defense — which held the Hoosiers to a season low 24 first-half points and a season low points total in a loss  — was perhaps the best these Hoosiers have seen all season. They were physical. They took away the three-point shot. They protected the paint and the rim. They got after an Indiana team that hadn't played a road contest in over a week, that had been bolstered by a home crowd of late and that is without Christian Watford and Maurice Creek.
The Hoosiers simply struggled all night to establish anything on the offensive end.
Still, Indiana never lacked for effort and kept fighting — and that's sometimes all you can ask for in a road bout like this against the No. 12 team in the country.
Though the Hoosiers never grabbed a lead or tie in the second half, they were within striking distance (4-10 points) until the clock became its enemy and there just wasn't any time left to mount a run. Of course, only scoring four points in the last 4:54 of the game — a rough 1-of-10 stretch with two made Will Sheehey free throws — didn't help matters.
But that was the story of the night for Indiana. Nothing doing on offense, as Purdue's defense was just too much for them to overcome.
Other thoughts:
+ Another impressive performance for Sheehey tonight, save for that fast break he tried to lead in the first half that led to a charge call on him. He scored a career-high 14 points (5-of-12 from the field, 1-of-3 from three, 3-of-3 from the line) and had some strong takes to the hole. He also chipped in three boards, two assists a steal and a block.
+ As has happened on many occasions this season, the Hoosiers got dominated at the line. Purdue went there with frequency (23-of-28, 82.1 percent), while Indiana managed only seven trips — though they hit them all.
+ All and all, Indiana did a pretty solid job on JaJuan Johnson, who only went 4-of-10 from the field. Though, seven free throws allowed him to score 15 points in total and he did notch seven boards as well. The same can't be said for the defensive job on the struggling-of-late E'Twuan Moore, who pumped in 25 points (7-of-15 from the field, 3-of-6 from three, 8-of-10 from the line). At one point the second half, Moore burned Jeremiah Rivers around the rim on successive Purdue possessions, and Crean pulled Rivers in favor of Daniel Moore.
You know it was a big night for E'Twuan if it comes to something like that.
Filed to: Purdue Boilermakers