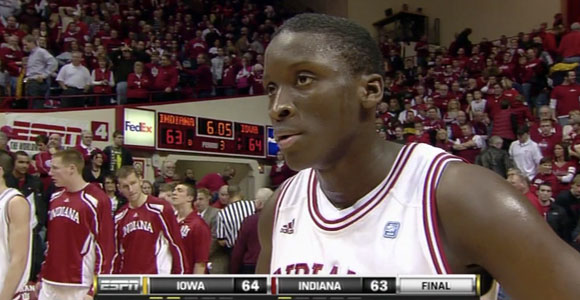 Thoughts on a 64-63 loss to the Hawkeyes:
Iowa did it again.
It marched into Assembly Hall — where the Hoosiers have been playing inspired basketball of late — and punched home their second win in as many seasons in Bloomington. Both victories mark its only road conference wins in the last three seasons.
Somehow, someway, this Hawkeyes team just has IU's number.
After Will Sheehey's awe-casian slam over Melsahn Basabe ignited the crowd in the second half, the Hoosiers eventually mounted a 10-point lead (58-48) at the 7:47 mark, and it seemed like they were on their way to a third-straight home victory.
But thanks to a few turnovers and some stagnant offense on Indiana's part, this Hawkeyes team got right back into the game with a 10-0 run to tie it up at 58-58 with 5:34 to go. And the Hoosiers were only able to muster five total points the rest of the way from the 7:47 mark to Iowa's 16, and it was pretty much the difference maker here.
This was a game where depth and personnel issues finally caught up a bit with the Hoosiers. (Two Bobby Capobianco jumpers and a Jeff Howard sighting, anyone?) Oh, to have Christian Watford, who hung 30 on these Hawkeyes just a few weekends ago.
And the Hoosiers returned to their bad fouling habits a bit as well, allowing Iowa to shoot a lot of free throws (20-of-25 for 80 percent). Iowa also asserted some serious dominance inside — Basabe posted a monstrous line of 20 points and 13 boards (five offensive) — scoring 34 of their 64 points in the paint.
As Tom Crean said in his post-game press conference: "When we had a chance to keep momentum, we just didn't really guard well down low."
Still it was there to be won in the closing seconds, despite Indiana's issues out of the first timeout.
It's easy to do some after-the-fact complaining about Verdell Jones — he of 1-of-9 shooting for the game — taking the last shot instead of Jordan Hulls.
But he did create a pretty good look for himself that just missed. And Victor Oladipo's tip-in attempt just missed as well.
A good shot with a board opportunity to tip home for the win? It could have been worse, folks.
Other thoughts:
+ Sheehey rose to the occasion this afternoon, tossing in 12 points (4-of-9, 4-of-4 from the line) for a team that needs some scoring help without Watford.
Oh, and there was this:
+ Indiana did a nice job capitalizing off Iowa's 17 turnovers, as the Hoosier scored 21 points off turnovers.
+ Jordan Hulls was sensational, tying a career high of 24 points (10-of-17, 4-of-9 from three) though he had three turnovers and only one assist.
Filed to: Iowa Hawkeyes, Jordan Hulls, Will Sheehey