The Minute After: Michigan State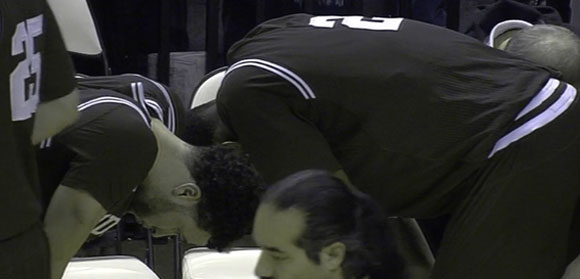 Thoughts on an 84-83 overtime loss to Michigan State:
There were two schools of thought heading into this one:
A) Indiana, riding an emotional high after Thursday night's big win, would carry it over and give a reeling Michigan State all it could handle.
B) Michigan State, losers of three straight, would finally get it together and hold strong at home for a victory.
What I think we got tonight was a cosmic collision of both these schools of thought.
This was a fun, tightly-contested, up-and-down game from start to finish — even if both teams got a little tired in the waning minutes of regulation and into overtime.
And even though it ended in a loss for Indiana, I don't think it's much of a stretch to say that it was an encouraging performance, as a lot of the good things Indiana brought against the Illini — heart, execution, intensity and effort — were more than apparent in the Breslin Center tonight.
Indiana just ran out of gas in overtime. The Hoosiers went 2-of-10 in the extra frame, and couldn't get anything going on the offensive end at all. Still, it was there for the taking, as Michigan State didn't do anything to blow this one open in OT, either.
Lastly, there's a lot of nitpicking that can be done — judging by the #iubb tag on Twitter, the refs are chief among them for some of you guys  — but if there's one I can't get behind, it's the focus on Jeremiah Rivers' two missed free throws in the final 42 seconds which helped send this one into OT.
Not only was Rivers a stellar 22-of-25 on the season from the line before tonight (and a good enough 3-of-5 on the evening), Indiana as a team shot below its Big Ten season average of 79.3 percent, hitting 63.6 percent from the line (14-of-22) tonight. Had Tom Pritchard — 0-3 from the line, now just 3-of-15 from the season — hit one of his, it's a point of contention that wouldn't even be part of the discussion at this juncture.
Additionally, Indiana went 11-of-11 from the line in its win against Illinois on Thursday, so tonight's performance at the line was a regression to the mean.
+ As Alex pointed out on Twitter this evening (via the great Dan Dakich), Christian Watford has been a new man since halftime of the Northwestern game. Tonight in East Lansing, Watford knocked knees and had to come out of the game, only to return. He injured his wrist and had to come out of the game, only to return.
And in overtime with a loose ball on the floor, it was Watford sacrificing his body, diving for the ball, securing it and calling a timeout.
This is a toughness that's been missing from his game at times this season, but was glaringly there tonight. Watford also took advantage of matchups time and again, driving to the cup when he got slower defenders on him. He was only 5-of-15 from the field, but went 4-of-8 from three and got to the line 10 times (seven makes) to get up to 21 points on the night.
+ Nice to see Matt Roth getting involved on the offensive end this evening, as he knocked down four threes in five attempts from beyond the arc for 12 points. None was bigger than the one he hit with 2:29 to go, which put the Hoosiers up 76-72. And after disappearing a bit on the offensive end of late, Victor Oladipo also got into mix with some strong takes to the bucket as well. He finished the night a perfect 5-of-5 (1-of-1 from the three) for 11 points.
+ Pritchard had seven rebounds tonight, and three huge ones in OT — two on the defensive end to take away second chances for Michigan State and one on the offensive end to keep a possession alive, one where Will Sheehey (who scored eight points (4-of-6) to go along with two steals) finished with a bucket.
+ Jordan Hulls continues to do Jordan Hulls things. That is all.
Filed to: Michigan State Spartans