Film Session: A look at The Win
A look at three plays from Indiana's big win over Illinois — a Jeremiah Rivers defensive stand; a Jordan Hulls three; a Will Sheehey dunk —  in the latest edition of Film Session:
NO. 1: RIVERS HOUNDS MCCAMEY
After Christian Watford swatted a Jereme Richmond attempt out of bounds, Illinois inbounds the ball to D.J. Richardson out on the wing with 31 seconds remaining on the shot clock: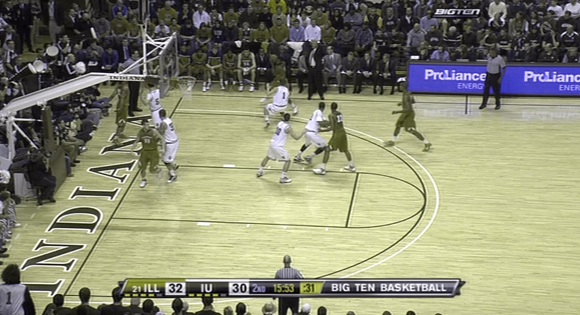 The ball eventually finds its way to McCamey near half court: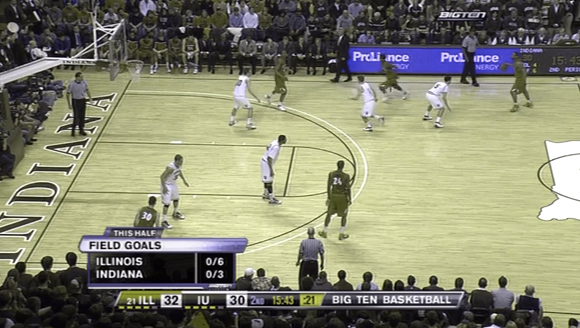 McCamey hands the ball off to Richardson and begins to cut through to the weak side: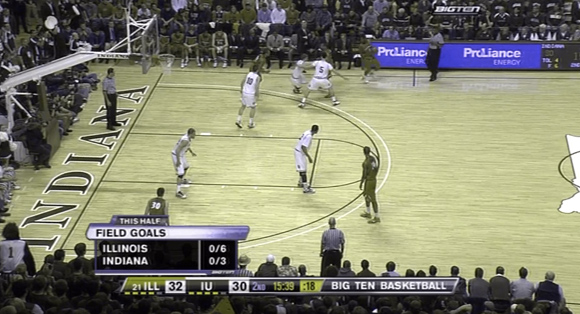 McCamey sets a pick for Mike Davis, and Rivers quickly gets a hand in to deny an entry pass: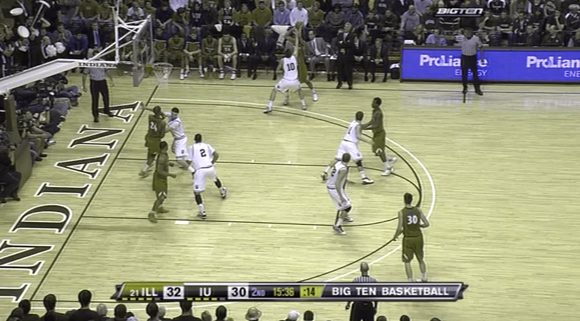 Rivers then quickly switches and puts a hand up to deny anything to McCamey: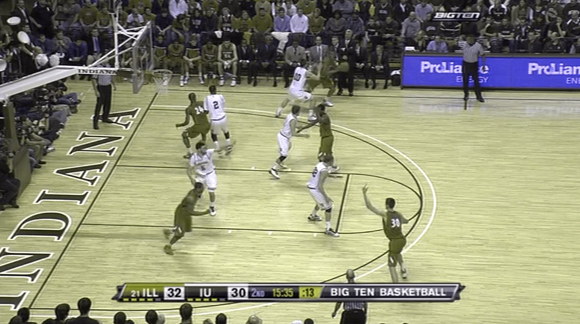 Rivers fights through a Bill Cole pick: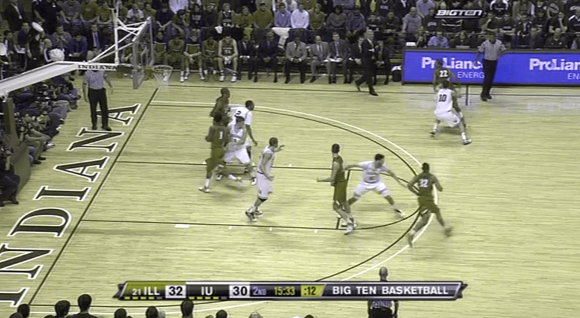 And ends up right in McCamey's grill: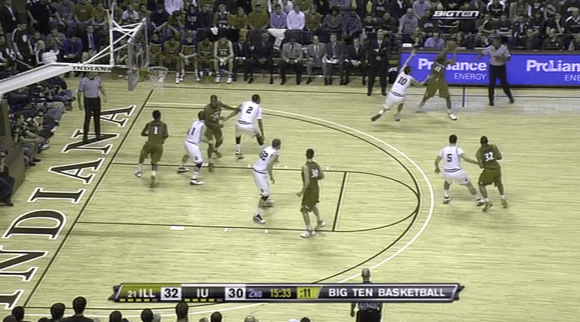 Richmond gives the ball back to McCamey: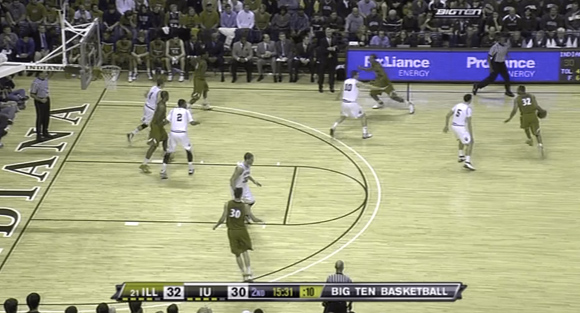 With the shot clock winding down, McCamey makes a move to the cup: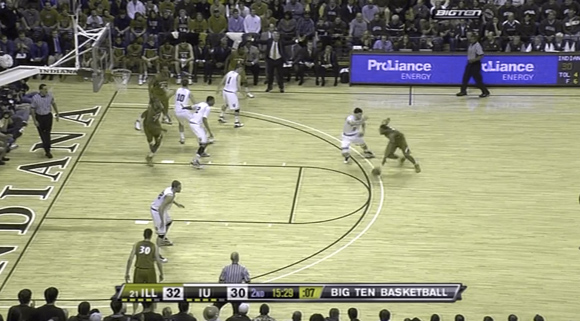 Rivers stays right with McCamey as he goes up for a shot: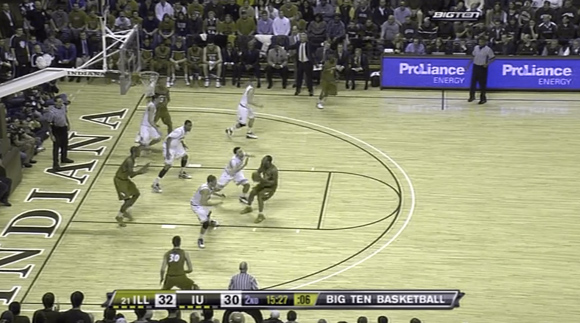 McCamey shot fakes, Rivers doesn't bite and then he strips the ball from McCamey: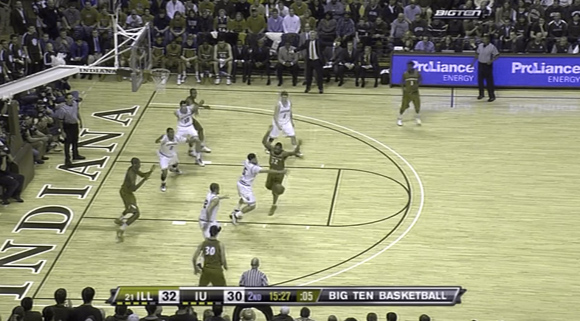 Nice bit of defense from Rivers, as he was all over McCamey every step of the way here, and for most of the evening.
RIVERS' WORK IN FULL:
NO. 2: HULLS' TRANSITION THREE
Hulls' shooting was a catalyst in the win. He went 4-of-5 from beyond the arc. Here's a peek at how he got open for one of his makes.
After a Richardson shot off the side of the backboard, Hulls looks to push the ball up the court: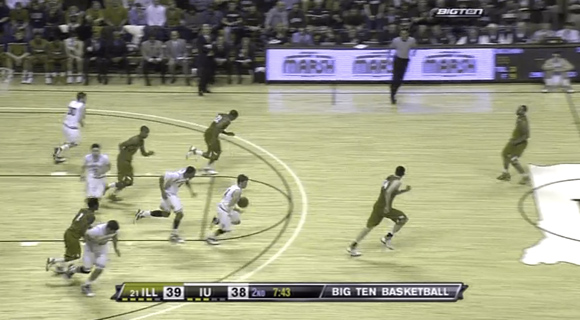 Hulls crosses half court with only Mike Tisdale and McCamey to pick him up: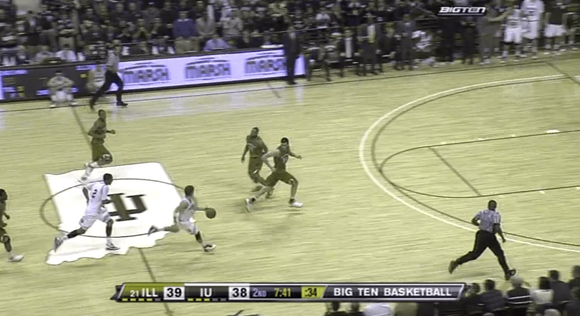 Hulls has some separation, but opts to dribble back left, perhaps to set up the offense: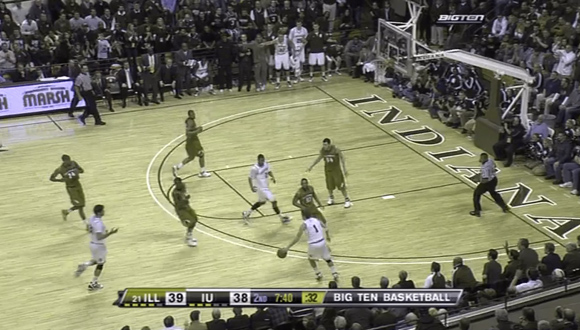 But a trailing Bobby Capobianco sets a pick: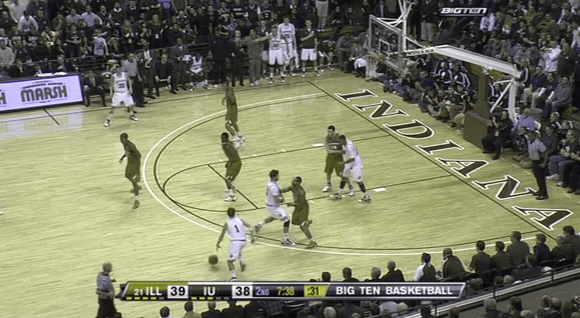 Which frees Hulls for his three: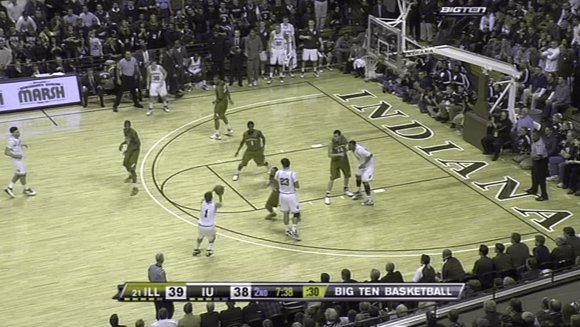 Money: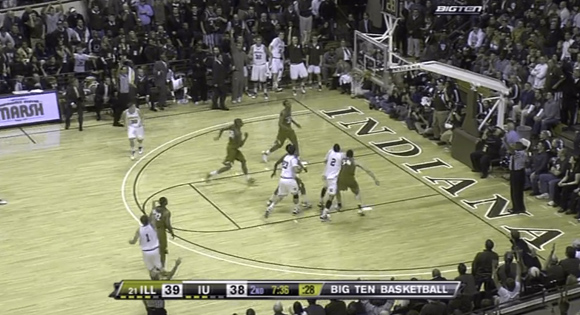 Nice recognition for Bobby C. during his limited playing time last evening.
POSSESSION IN FULL:
NO. 3: SHEEHEY GETS IN ON THE ACTION
This one's from the first half.
Rivers instructs Sheehey to clear out to the weak side: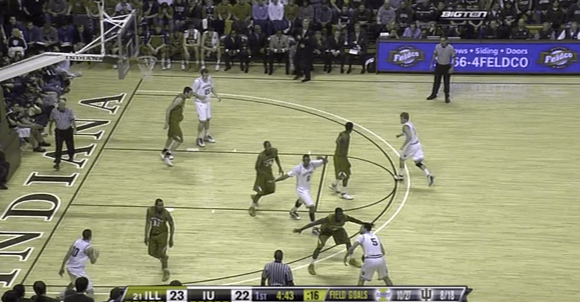 Watford sets a screen for Rivers: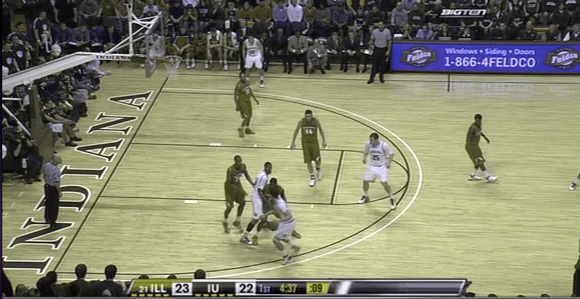 Rivers gets around Davis: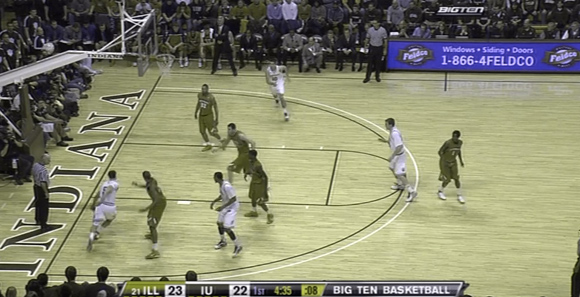 Tisdale and McCamey both collapse in: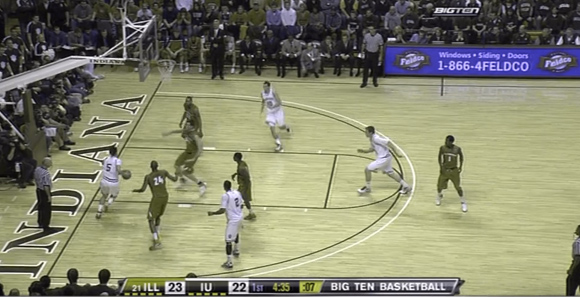 Rivers drops a pretty no-look dime to Sheehey: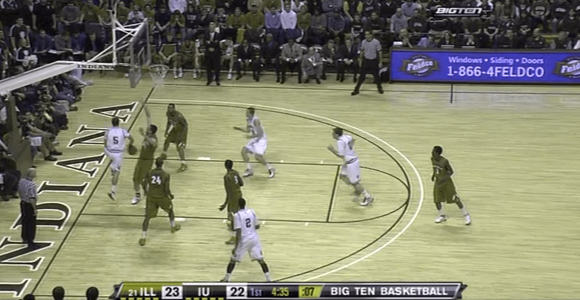 Who dunks it home: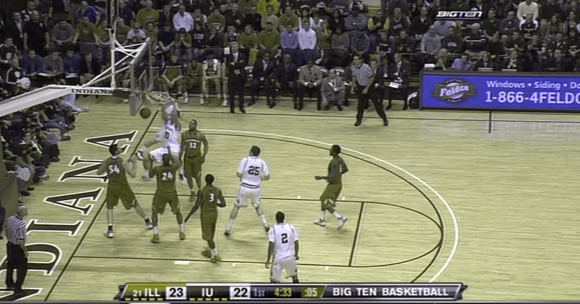 While Sheehey gets the two points, this play was set up by Rivers, who was seemingly everyone on both sides of the ball last evening.
POSSESSION IN FULL (WITH RIVERS TO WATFORD IN TRANSITION BONUS):
Filed to: Illinois Fighting Illini