The Minute After: Illinois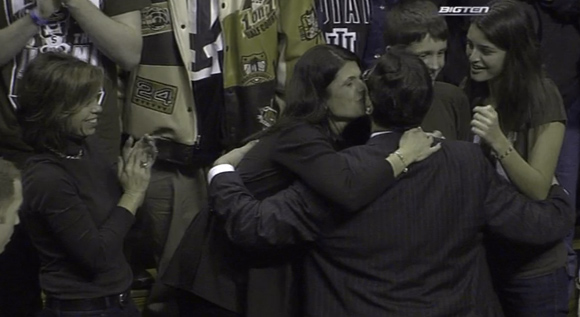 Thoughts on a 52-49 win over the Illini:
These kids have been criticized for their lack of mental toughness. Lambasted for sagging energy and effort. Their coach occasionally derided for his substitution patterns and schemes.
But on this snowy late January evening, there were no critics.
Only a unified 17,000-plus screaming and shouting and cheering from every nook and cranny in one of college basketball's great stadiums, rooting their team on to a spirited victory.
This, my friends, was Indiana Basketball.
After all the ruin and rubble this team has been through since Tom Crean assumed the job, it hasn't felt quite like this. You could feel the swell of the crowd through the TV, if you weren't one of those in attendance this evening. It was rocking and rolling and jiving from tip to court storm.
Don't think this fact was lost on the coach.
As Brandon Paul's three missed and the final buzzer sounded, Crean went and embraced his family behind the bench. He was almost at a loss for words in his post-game interview on the Big Ten Network, beaming as he praised the crowd. And as things went back to the studio, Crean grabbed the game ball, gave Gus Johnson a fist pump and saluted and high fived the Assembly Hall faithful close enough to get a piece of their leader. And if that wasn't enough, he hit the lobby to thanks fans, too.
He was savoring the moment, soaking in all the reasons he took this job in the first place.
As Pat Forde noted shortly after the contest on Twitter, outsiders will view this game in a far different light. (And probably Crean's grand celebration, too.) Heck, it finished 52-49. Neither team shot over 40 percent. You were worried this one was going to finish 32-30 because for the first several minutes of the second half it didn't seem like either team was going to put the ball in the bucket.
This certainly wasn't one for the NBA purists.
But it was a physical dogfight against arguably Indiana's biggest rival, save Purdue, these days. It was also Tom Crean's first victory over a ranked opponent in his Indiana tenure, a win which put the Hoosiers up 83-82 in the all-time battle against the Illini.
This was a big win in so many ways, regardless of the ugly factor.
And it's one IU fans won't soon forget.
Other thoughts:
+ Jeremiah Rivers, take a bow. Such an outstanding defensive performance from No. 5 tonight on future NBA'er Demetri McCamey. Rivers frustrated the opposing senior time and again tonight by keeping him in front of him. The Illini point guard finished a woeful 2-of-11 (2-of-9 from three) with only six points.
Rivers also led the team in rebounding (six), while adding three assists and three key steals. In a second-half where offense was at a premium, he also had a nifty layup that juked Mike Tisdale at the 9:18 mark to keep things close.
+ Jordan Hulls, take a bow. After an off afternoon up in Iowa on Sunday, Hulls returned to his ridiculous-efficient ways, hitting 6-of-9 (4-of-5 from three) to go along with two key free throws which made it a three-point game with 12 seconds to play.
When he finds a way to involve himself in the offense, good things happen. Hulls finished with 18 points on the night. He also picked up two bandages during the contest, a sign of how physical this one was at times.
+ Christian Watford, take a bow. His shooting may not have been stellar (5-of-14, 1-of-4 from three), but Watford had some tenacity and fight to his game this evening — something he rarely wears on his sleeve in such a manner.
And with the offense needing something down 49-46 with 2:28 to go, Watford took it strong near the cup, got fouled and hit both free throws. They were big.
In fact, Watford went 5-of-5 from the line tonight — a part of Indiana's perfect 11-of-11 mark from the line for the contest. The Illini only shot eight free throws, making six of them. For an Indiana team that has put teams on the line time and again this season to its detriment, this was progress.
And in a close, low-scoring game, it made a difference.
+ Take a bow, Tom Pritchard. Right place, right time, huge offensive rebound and put back to give Indiana the lead at 50-49 with 38 seconds to go. Pritchard — despite getting into foul trouble — also did a solid job on Tisdale, as the senior only went 2-of-10 (1-of-3 from three, 3-of-4 from the line) for eight points.
+ Lastly, something that slipped my mind in this morning's preview: This Illinois team, for all its talent — and it does have a lot of talent — has also shown this season that mental fortitude and decision-making isn't quite its strong suit.
The Illini's shot selection in the first half coupled with some late offensive miscues — that Tisdale turnover where he threw it out of bounds to no one — was evidence of that this evening.
Filed to: Illinois Fighting Illini