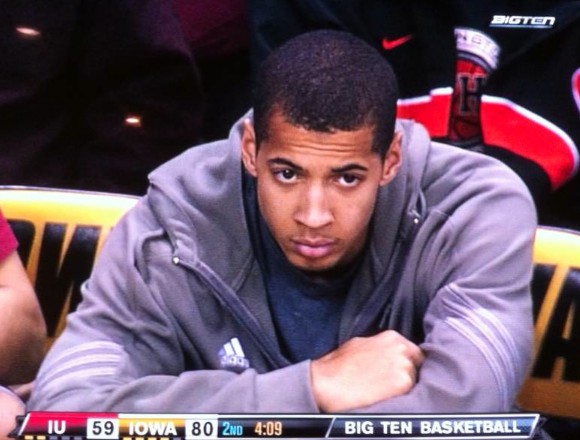 Thoughts on a 91-77 loss at Iowa:
Indiana, coming off a hard-fought loss Thursday night at Wisconsion, walked into Carver-Hawkeye Arena on Sunday afternoon without the services of both Maurice Creek and Verdell Jones.
Creek, who suffered a season-ending knee injury eight days ago in IU's only Big Ten win over Michigan, didn't make the trip to Iowa City. And Jones, who is out indefinitely with inflammation in his left knee, could only watch in a gray sweatsuit from the sidelines. (The Jones injury was news to everybody until roughly 40 minutes before tip-off.)
And yet, even without both guys, this was a contest that should have been competitive for a Hoosier team that had played well in its last two games and appeared to be heading in the right direction.
Instead, it was an abysmal defensive performance against the Big Ten's worst offensive team.
Consider this: Iowa had broken the 75-point barrier in a conference game just once. The Hawkeyes hung 91 on Indiana.
As Ryan wrote yesterday, Fran McCaffery's club came into the game scoring just .94 points per possession. They put up 1.17 points per possesion against IU. It seemed like the Hawkeyes scored at will as they shot almost 58 percent. Devyn Marble, a freshman reserve, went for a career-high 18 points in 20 minutes.
Simply put, it was an uninspired, disinterested effort on defense. And for a team that must hang its hat on being scrappy and out-working opponents in order to win, Indiana came out on Sunday as if it expected to win, but failed to do any of the things it takes to win.
A couple of other bullets:
+ Christian Watford had a solid game offensively, pouring in a career-high 30 points (and added eight rebounds). With Verdell out indefinitely, Watford will be counted on to be the guy on offense and he did his best to carry the team in that regard on Sunday.
+ Tough game shooting the ball for Jordan Hulls. He connected on just 1-of-8 shots, but with how well he's been shooting, he was probably due for an off-night. (Tom Crean said afterward that Hulls had been sick all week and threw up at halftime.)
+ After committing just seven turnovers on Thursday in Madison, Indiana coughed it up 15 times.
Beyond that, as I tweeted late in the game, I have nothing else to add.
Filed to: Iowa Hawkeyes