Know Thy Opponent: Iowa Hawkeyes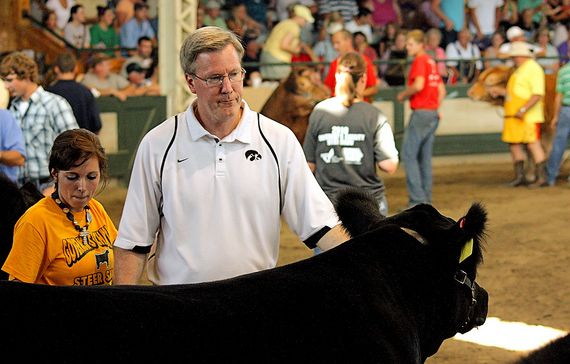 Iowa coach Fran McCaffery shows a steer at the Iowa Governor's Charity Auction. Photo via Flickr.
If Indiana was going to get an advantageous road matchup after back-to-back strong performances in games against Michigan and Wisconsin, a trip to Carver-Hawkeye Arena on Sunday to take on Iowa is just it — at least on paper.
Iowa is the only remaining Big Ten team without a conference victory (0-6 so far). Iowa's offense, at .94 points per possession, ranks last in the conference. The Hawkeyes also rank last in the conference in free-throw percentage (67.1 percent), which could help out the often foul-happy Hoosiers, while also ranking last in turnover percentage (23.4 percent). Iowa (9th at 47.2 percent) also barely outranks Minnesota (11th at 46.8 percent) and Michigan State (10th at 47.2 percent) in the effective-field goal department.
And while Indiana's defense (10th at 1.21 points per possession) is still a work in progress, Iowa's D is only marginally better (ninth at 1.17 points per possession). Though, it's worth noting that Iowa is second in the league in steal percentage (9.5 percent) and is fifth in block percentage (seven percent).
But simply put: Iowa is not particularly strong on either side of the ball.
The Hawkeyes have shown prowess in offensive rebounding (fourth with an offensive rebounding percentage of 33.3 percent), so they may be able to take advantage of  some second-chance opportunities. Yet, Iowa's defensive rebounding percentage (61.4 percent) ranks last in the conference, meaning the Hoosiers could have plenty of second-chance opportunities of their own.
All stats from statsheet.com.
Filed to: Iowa Hawkeyes