Inside the Hall Twitter Mailbag: January 21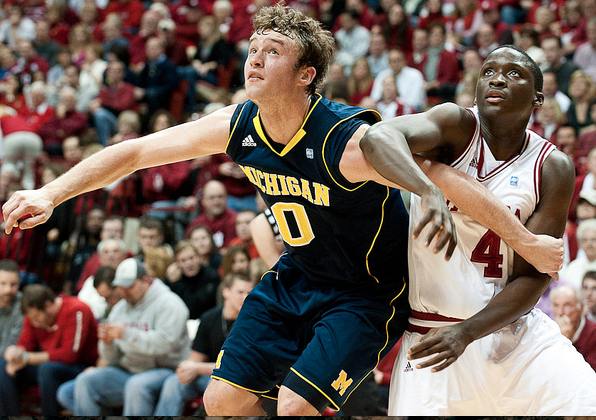 (Photo credit: Jamie Owens)
The Inside the Hall Twitter mailbag is a weekly collection of questions tweeted to us via our Twitter account, @insidethehall. Tweet us your questions each week and we'll answer as many as we can. Now, onward …
@michugana writes: When taking into account both offense and defense, is Victor Oladipo already this team's best player?
Alex Bozich: I've been very impressed with how well Oladipo has been able to adjust to the college game, but no, I don't believe he's Indiana's best player. He's shot the ball very well (nearly 54 percent), but he's still too one-dimensional on offense and struggles to make free throws (58 percent, but he has hit nearly 70 percent in Big Ten play). Defensively, he's been a huge positive with his length and athleticism and I think down the line he'll be one of the better defenders in all of the Big Ten. The nice thing about Oladipo's situation is that Indiana doesn't need to rely on him as heavily as they did last year's crop of newcomers. Long term, that should help his development as he won't be counted on to do too much too soon.
@hoopstrainer writes: Do you think this team this year will be better without MO compared to last years team without MO?
Alex Bozich: No question it will be. And the reason, one that Tom Crean talked about on Wednesday when he spoke to the media prior to departing for Madison, is pretty simple. This roster is more equipped to deal with the loss of Creek. It's a deeper club, especially at the off-guard and wing positions, and although IU is still one of the Big Ten's youngest teams, the Hoosiers are no longer relying so heavily on freshmen. Last season, Creek was far and away the best offensive weapon Indiana had when he suffered his fractured left kneecap. In fact, he was having one of the best seasons on offense in the country. This season, he was a solid contributor on offense, but had yet to return to being a go-to-guy in that regard. His defense had also not yet returned to pre-injury form. So while it may not be reflected in the team's final Big Ten record, Indiana is much better equipped to deal with the loss of Creek.
@srhise writes: Will Matt Roth step in for Mo' Creek's minutes, or will we just add to WS and VO minutes?
Alex Bozich: Crean was asked about this on Wednesday and he admitted that he doesn't have a specific plan on how Creek's minutes will be distributed. He did mention that Roth will play more and that Daniel Moore will get a chance to play and both of those things came to fruition last night in Madison. I suppose you could see one of those four carve out more consistent minutes in Creek's absence, but ultimately, I think the minutes will be divvied up based on matchups as well as which guy is playing the best.
@rick_park writes: What's the likelihood that we get Gary Harris?
Alex Bozich: I'm not a percentages or prediction type of guy, but I think Indiana has as good of a shot as any school involved in his recruitment. And that includes Louisville and Michigan State, both of whom Harris denied were his leaders in a tweet last night. Look, there are positives at all of the schools he's seriously considering, but when you look at what Indiana has already done in 2012, Harris would pretty much lock up the No. 1 recruiting class in the country for the Hoosiers. So if his decision is at all centered on the players that will surround him (and it likely will be), that bodes well for Indiana. Ultimately, I don't believe Harris is close to making a decision and the hype and interest in his recruitment, especially from IU fans, will only increase as the months move along. #Garypalooza, anyone?
@StopCommotion writes: Here's a twitter question for you, why does Eamonn Brennan, who got big from an IUBB blog, now seem to hate IUBB on ESPN?
Alex Bozich: Oh, where to start. First: Eamonn, who co-founded and played a rather large role in launching this site, did not get big, as you say, from an IUBB blog. He was already well-established blogging about MLB at FanHouse and also at WeAreThePostmen when Inside the Hall started. And his rise from FanHouse to NBC Sports to Yahoo! to ESPN can be attributed, in my opinion, to two things: hard work and talent. He's an intelligent, driven guy that I'm proud to call a friend. As far as your perception that he hates Indiana basketball on ESPN, well, I'd say that's misguided, too. He's not writing for Inside the Hall anymore. He's writing for the leading sports property on the Internet and his job is to give his opinion and analysis, which has not always been favorable for the Hoosiers given their on the court performance the last couple of seasons.
Filed to: Twitter Mailbag