The Minute After: Wisconsin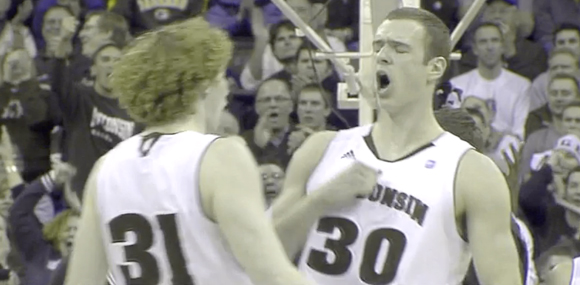 Thoughts on a 69-60 loss to the Badgers:
When you head up to the Kohl Center, a place Bo Ryan's Badgers were a staggeringly good 146-11 and had won 31 of 32 heading into this one, you best bring your A game.
And you know what? Indiana did just about that this evening.
Sure, the Hoosiers didn't emerge victorious. And sure, they allowed the Badgers to shoot 49 percent on the evening, which isn't exactly something to write home about.
But this was a game Indiana controlled in the first half. Jordan Hulls and Verdell Jones were hot. The Hoosiers pushed the pace and were dictating things. Wisconsin — the best free-throw shooting team in the nation — didn't shoot a single free throw, as the foul-happy Hoosiers only fouled the Badgers three times.
And there was really no epic collapse of any sort in the second half. Energy, effort and consistency were there throughout. When the Badgers finally snatched their first lead since 2-0 at the 13:19 mark (44-42), it was a sea-saw battle for awhile until they put just enough distance between themselves and the Hoosiers — culminating in a Jon Leuer and-1 with a minute to go to put them up seven.
After a free-throw free first half, Indiana sent the Badgers to the line 17 times in the second half, and they hit 16 of them — with five of those being the completiton of and-1s. That was, in part, the difference.
A valiant effort from the Hoosiers. They've found a nice little rhythm here since the second half of the Northwestern game, as Dan Dakich noted during the broadcast.
But this Wisconsin team — with only five turnovers to its name this evening — just doesn't beat itself, especially at home.
+ Can't say enough about Jordan Hulls' aggression and confidence this evening. As Alex tweeted Tuesday, the kid has the best effective field-goal percentage in the nation. And so many have been calling for him to get off more shots during games because of it. (Though, his size makes it easier said than done.) So it was nice to see him shooting, shooting and shooting some more tonight. He peeled off 10 early points to set the tone for this team in the first half, and was dribble penetrating and looking for his shot more than usual. For the game, Hulls popped in 16 points on 7-of-12 shooting (2-of-4 from three) to go along two assists and two steals.
+ If we're talking about Hulls' offensive game, Verdell Jones deserves a mention as well. After ripping off a hot 9-of-10 shooting performance against Michigan on Saturday, Jones finished an efficient 6-of-12 (3-of-4 from the line)  for 15 points.(Though, as the broadcast crew noted, it would have been nice if a few of his long twos were threes.)
+ Only seven turnovers for the Hoosiers tonight. This is good.
+ Props to Tom Pritchard for his defensive performance against Leuer tonight. Yeah, Leuer scored 20 points, but it took him 18 shots to get there — with a mark of 3-of-3 from the line to boot. Pritchard stayed out of foul trouble, and played Leuer strong on plenty of possessions. Pritchard also snagged four of Indiana's six offensive rebounds this evening and scored another two points. He's been real solid these last two contests.
+ Jeremiah Rivers looked for his offense a little more tonight again, and used his dribble-drive ability to score six points (2-of-4 from the field, 2-of-2 from the line). With Christian Watford's scoring down since Big Ten play, having Rivers chip in a little more offensively is a nice bonus.
Filed to: Wisconsin Badgers