The Minute After: Michigan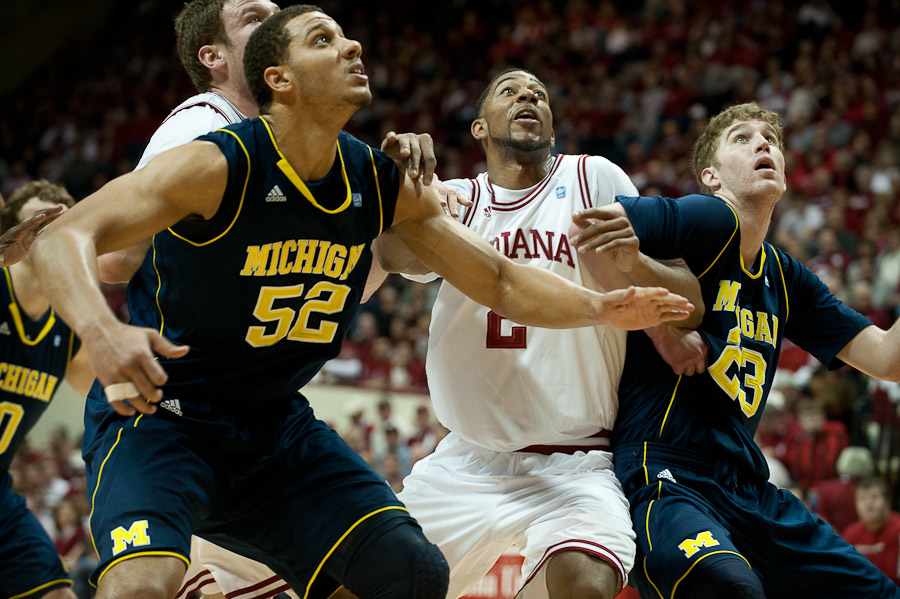 Notes on an 80-61 victory over Michigan. Photo by Jamie Owens.

This team badly needed a strong defensive performance.
Tonight inside Assembly Hall, they brought just that — and more.
From the onset, the Hoosiers displayed intensity, emotion and aggression on both ends of the floor, all of which snowballed throughout the game to their eventual victory.
Indiana denied Michigan their first rebound until 10 minutes into the game. The Wolverines only managed 15 points in the first half. They only shot 36.4 percent from the field (20-of-55) and 29.2 percent from three (7-of-24).
The Hoosiers needed this game in so many ways. For their first Big Ten win. To snap their six-game losing streak, one that seemed like it never wanted to end at times. For pride.
But most of all, to prove to themselves, their coach and their fanbase that they're better than they've been. That they are capable of contending in this conference, and capable of defending on their home court.
It's been suggested this was perhaps a bit of a letdown game for Michigan after it played strong in losses to Kansas and Ohio State. Maybe there's some validity to that.
Or maybe, for the first time in too long, Indiana finally put it all together for a victory.
Other thoughts:
+ Y'all have dogged VJII left and right this season, but no reason for that after this one. Sure, he had a few turnovers (four), but his offense was Vintage Verdell tonight — a mix of mid-range razzle dazzle and getting to the cup for some strong looks. Jones set the tone early with 14 first-half points, and finished with 24 for the game on 9-of-10 shooting (6-of-8 from the line) to go along with four assists and four boards.
Most importantly, along with many of his teammates tonight, he was vocal and showed some emotion.
+ Got to mention the job Jeremiah Rivers and Tom Pritchard did as starters this evening. Rivers posted a season-high eight point as he looked for his shot a bit more than usual. He was also a nice defensive agitator in the first half. Pritchard provided the screens necessary to free up his teammates for looks, and also snagged seven boards.
+ Christian Watford has been in a funk and lacked aggression during the losing streak, but he got after it right away tonight — yet another player that set a winning tone this evening. He did have some advantageous matchups, but nice to see him want it in this one. For the game, he went back to his double-double ways, posting 17 points on 5-11 shooting (1-of-4 from three,  6-of-6 from the line) and 10 boards.
+ Scary moment as Maurice Creek appeared to injure his right knee on a breakaway layup near the end of the second half. He did walk off the court on his own accord pretty shortly after he hit the deck, so hopefully it's nothing too serious.
+ Lastly, if we want to nitpick, Indiana did have a little case of the turnovers this evening (16). Things got a little sloppy at times in the second half, but a win is a win is a win at this point, eh?
Filed to: Michigan Wolverines