Film Session: Exploiting Sampson on the switch
As Dan Dakich noted during the second half of Tuesday night's broadcast, the Hoosiers exploited Ralph Sampson III's screen switches on a few occasions.
By drawing him out from the basket — a place he can often feast as a shot-blocker, as his 2.07 blocks per game are third best in the Big Ten — and getting him to switch to defending Indiana's dribble-drive threats (Jeremiah Rivers, Verdell Jones), the Hoosiers were able to get some desirable looks at the basket.
A breakdown of three such plays — with video! — in the latest edition of Film Session:
(Note: Apologies for the poor — but tolerable — video quality.  Working on my video-encoding skills as I go.)
NO 1: THE MANY SCREENS OF TOM PRITCHARD
After an Indiana timeout, Jeremiah Rivers passes the ball into Jordan Hulls: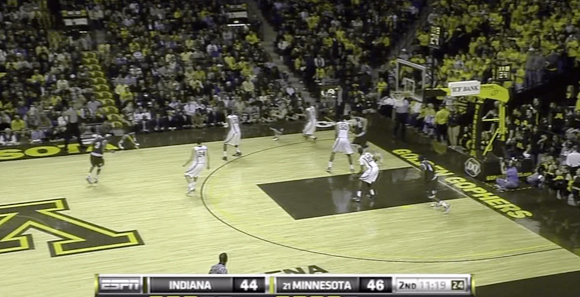 Tom Pritchard sets a pick for Hulls, as Sampson hedges up to meet Hulls: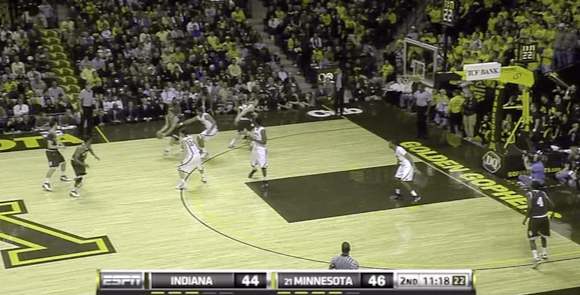 Hulls passes up top to Rivers as Pritchard curls to the hoop and motions for the ball: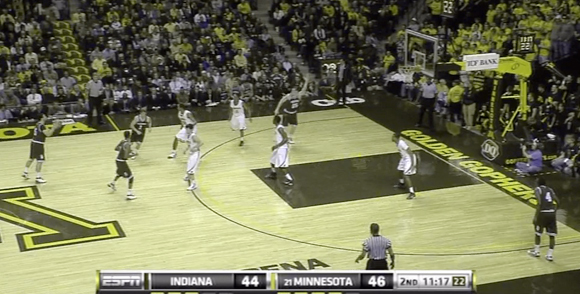 Rivers decides against the tight pass and lets things run: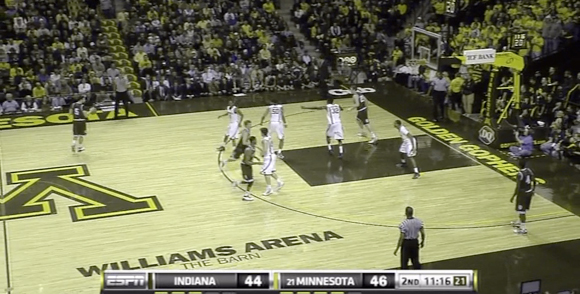 Sampson eventually re-marks Pritchard as he sets a pick for Rivers: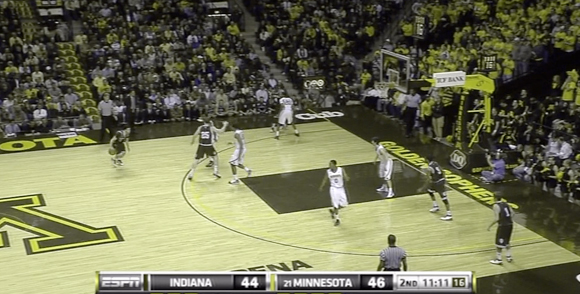 Sampson does an initial good job of denying Rivers entry to the lane on another switch, while Pritchard is setting yet another pick — this time for Victor Oladipo: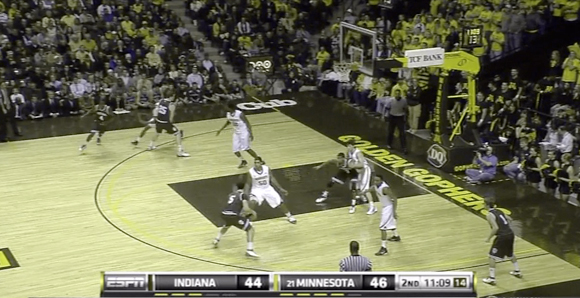 Rivers passes to Oladipo, who then draws Al Nolan and Sampson — allowing Rivers penetration room to the left elbow, and finally an advantage for Indiana: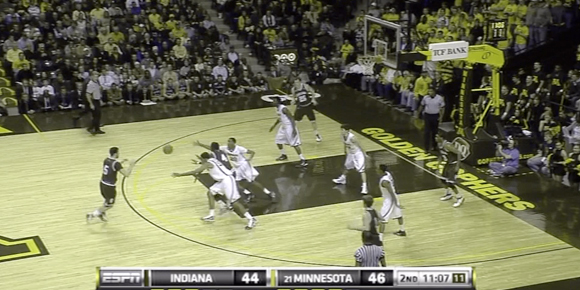 Trevor Mbakwe comes up to meet Rivers, allowing him to dump it off to Pritchard: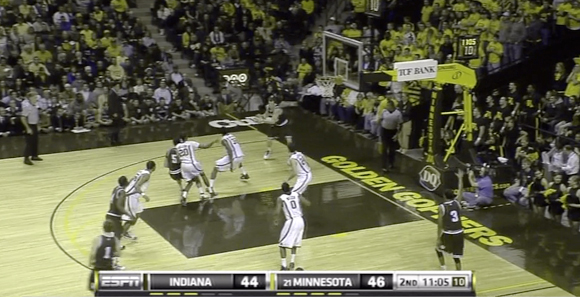 Pritchard hits a reverse layup — one of his few offensive moves these days. A nice reward for all his picks on this play: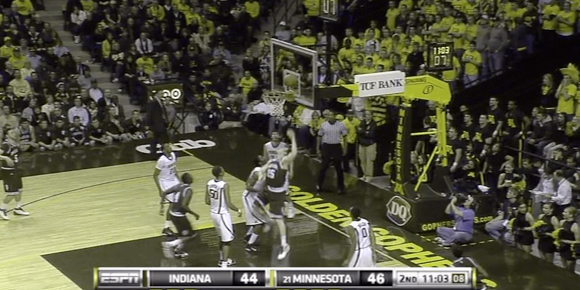 VIDEO:
NO. 2: VERDELL SEPARATES FOR A MID-RANGE J
This one took a little while to develop as well, but here's the end result.
Pritchard sets a pick for Verdell Jones at the top of the key: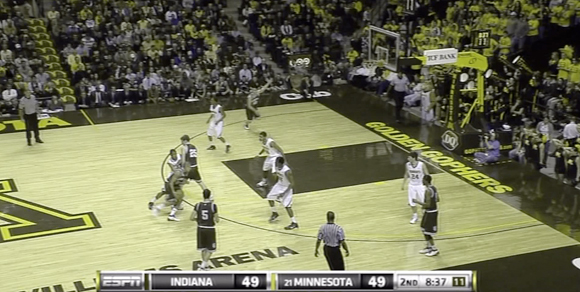 With Sampson hanging back and not hedging up to meet the ball, Verdell cuts through and begins to go to the right elbow (an alley-oop to an open Will Sheehey could have been fun here):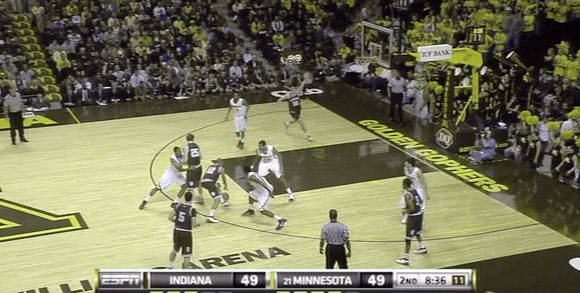 Jones uses his quickness on Sampson — who had been Mr. Block Party earlier in this half —  to get enough separation for a mid-range jumper: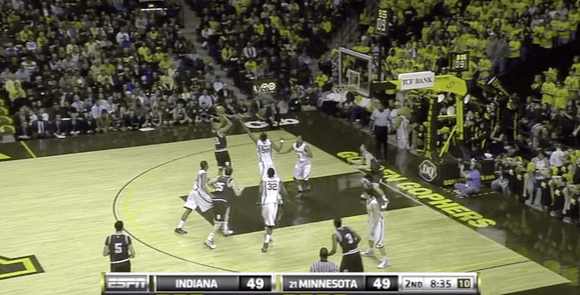 And it's buckets for Jones: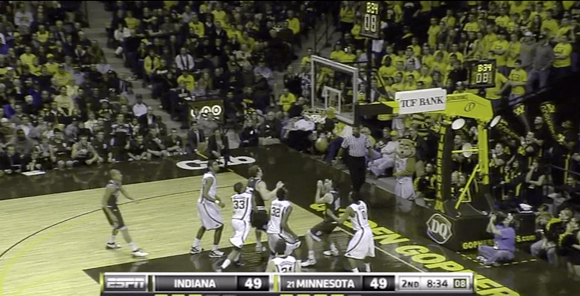 VIDEO OF THE OFFENSIVE POSSESSION IN FULL:
NO. 3: CREAN'S CALL
When Minnesota ripped off a 10-0 run and Indiana found itself down 59-51 with 4:51 to go, Tom Crean signaled for a timeout. Here's what he drew up in the huddle — yet another play that went right after Sampson.
Jones passes the ball into Rivers as Pritchard comes over to screen: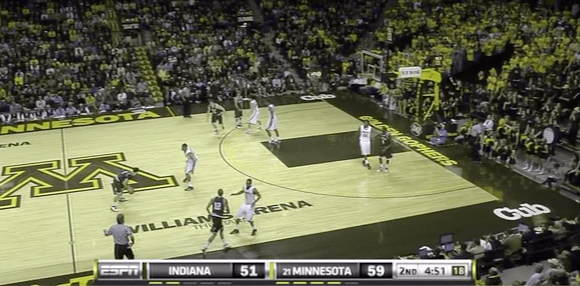 Pritch sets the pick: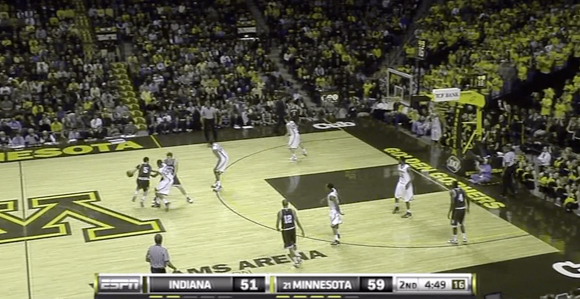 Rivers blows by Sampson (notice how Blake Hoffarber stays home on Hulls, taking away Rivers' option to kick out for a corner 3-point attempt):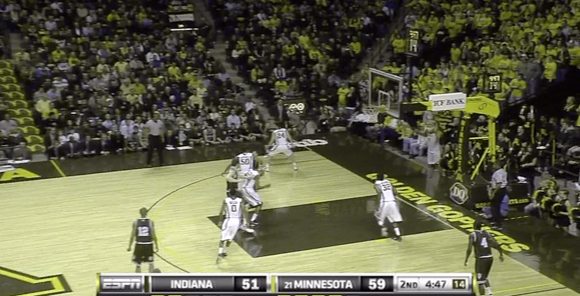 As three Minnesota defenders converge on Rivers while he rises towards the basket, Oladipo cuts in from the corner: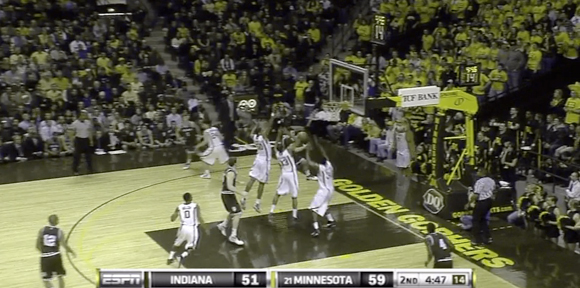 The pass is made: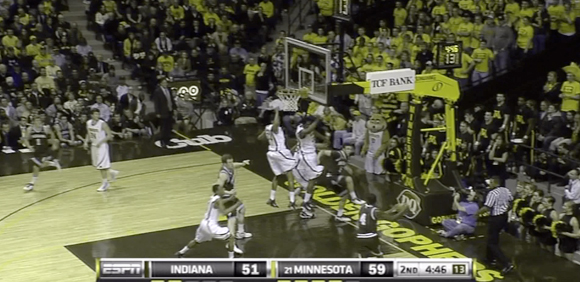 Oladipo's knifes in and hits the layup: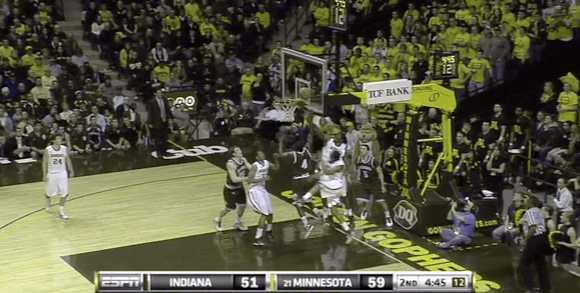 VIDEO:
A very nice set here for the Hoosiers to stop the bleeding.
Filed to: Minnesota Golden Gophers, Ralph Sampson III