The Minute After: Ohio State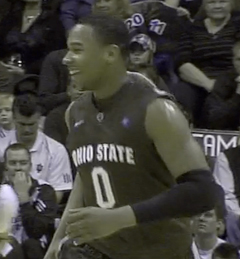 Notes on an 85-67 loss to The Ohio State University:

Peeking at the numbers, it sounds a little silly to say Indiana brought it this evening. After all, the Hoosiers allowed Ohio State to shoot a blistering 60.5 percent from the floor (23-of-38) and 68.4 percent from three (13-of-19). They lost by 18.
But this Ohio State team is so strong, so lengthy, so crisp, so, well, good. Undefeated through 14. Ranked No. 2 in the nation. Selfless and experienced — with a freshman phenom in Jared Sullinger to boot.
No one will be surprised if the Buckeyes find themselves in the Final Four this spring. They are that good. They can outclass a team like Indiana with relative ease.
So with all this in mind, we can say that tonight's Hoosiers were not the incarnation we've seen during the previous three losses. There was more effort and confidence. More heart and hustle. More aggressiveness on both sides of the ball. Better shooting and offensive flow. A belief that they were never out of this, even when they were pretty much out of this.
It was reminiscent of their play against Kentucky. Clearly outclassed in talent, but not cowering in the corner because of it.
Had they brought this sort of effort against Penn State, they'd be sitting at .500 on the Big Ten season instead of 0-2.
But bring it enough times the rest of the way, and there are wins ahead for these Hoosiers.
Other thoughts:
+ After a weak showing against Penn State and a quiet five points in the first half, Christian Watford returned to offensive form after halftime, punching in 12 to finish with 17 (5-of-10 from the field, 3-of-5 from three, 4-of-4 from the line). This is the Watford the Hoosiers need if they're to make a serious go of the Big Ten season.
+ And speaking of offense, this team looked more competent in that department after three rough shooting games in a row. They went 50 percent from the floor (25-of-50), though the 3-point shooting (9-of-24 for 37.5 percent) and free-throw shooting (8-of-14 for 57.1 percent) left a little to be desired. There were some bailout shots at the end of the shot clock that fell as well. But Indiana, against a team with superior length and athleticism, never really had a long scoring drought like they are sometimes prone to go through. The Buckeyes hit and hit and hit, and the Hoosier answered enough times to keep this one interesting well into the second half. To go along with Watford's 17, Jordan Hulls dropped 12 (5-of-9 from the field, 2-of-6 from three), Victor Oladipo had 14 (6-of-10 from the field, 1-of-3 from three, only 1-of-5 from the line) and Verdell Jones chipped in nine (3-of-6 form the field, 1-of-3 from three, 2-of-3 from the line).
They also tallied 14 turnovers on the night, which, for them, ain't so bad.
+ Thank to the likes of Sullinger and company, Indiana was held in check on the boards. They only snagged four offensive rebounds all game, which led to only five second-chance points. By my math, the Hoosiers' offensive rebounding percentage was just 10 percent, well under their season average of 35.5 percent.
OK, that's all I got for ya. Have a safe and happy New Year's. Better days are ahead for these Hoosiers in 2011.
Filed to: Ohio State Buckeyes