The Minute After: Penn State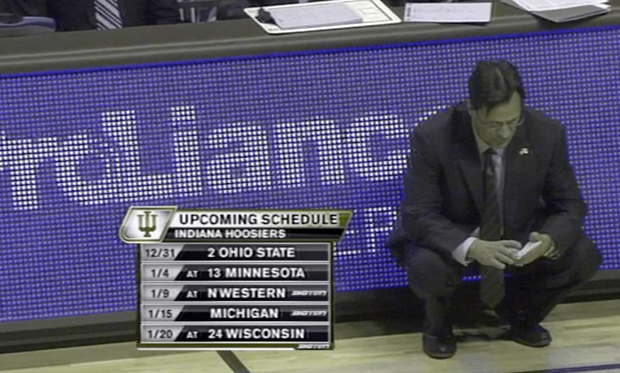 Thoughts on a 69-60 loss to Penn State:
Things have gone from bad to worse, my friends.
Another game Indiana was favored to win, another loss.
In the Big Ten, you need defense, and you need someone to step up and hit shots when it matters.
Indiana had neither tonight inside Assembly Hall.
In the first half, Indiana allowed Penn State too many wide-open looks from beyond the arc. Despite entering Big Ten play as the worst shooting team in the league, the Nittany Lions converted on those opportunities, knocking down 50 percent (5-of-10) of their threes in the first half.
The Hoosiers did a better job of defending the three in the second half, but Talor Battle (19 points, six boards) hit three difficult ones, anyway. For the night, the Nittany Lions knocked down 8-of-17 for 47 percent.
And on the strength of guys like David Jackson (15 points, eight boards) and Jeff Brooks (23 points, eight boards) Battle didn't have to shoulder all the load for Penn State tonight — even with a shortened seven-man rotation with the absence of Taran Buie. Jackson and Brooks helped the Nittany Lions to 53.8 percent shooting from the floor (21-of-39). Add in a solid night at the line (19-of-26, 73.1 percent) and Penn State was a very efficient offensive unit this evening.
After a sluggish first half, Indiana, on the backs of the Assembly Hall faithful and a pumped-up Tom Crean, played with more energy and worked to get more looks in and around the basket area. After only six points in the paint in the first half, Indiana got 14 in the second half. There seemed to be a momentum shift — with the Hoosiers even taking a 48-47 lead on a Maurice Creek layup with 8:45 to go. It was as close as 56-54 with 2:28 remaining, but Indiana failed to finish.
Again.
At 58-54 with 2:12 to go, Victor Oladipo — who had an otherwise solid game (5-of-9 from the field, 2-of-3 from three, 2-of-3 from the line for 14 points to go along with four boards and three steals) — missed a layup. Indiana managed to get the rebound, but Jordan Hulls threw it away on a pass to Verdell Jones, which Penn State converted into a bucket at the other end. On Indiana's ensuing possession, Jones got swatted by Brooks and Battle got the rebound. Penn State then missed the front end of a 1-and-1, but were able to corral the offensive rebound, and Indiana was forced to foul Tim Frazier. He hit both free throws at the 1:16 mark.
In one minute and 12 seconds, Indiana's deficit had gone from two points to eight points. That was about all she wrote.
The Hoosiers had another sluggish night from the field (23-of-54 for 42.6 percent) and only managed to get to the line eight times, converting on five of those attempts for 62.5 percent.
As alluded to above, this team is really lacking that go-to guy, or at least some steady leadership in the waning minutes of these ballgames where victory is within reach.
That duty should fall to Christian Watford. But he was an absolute ghost this evening, as he scored only three points (1-of-5 from the field, 0-of-2 from three, 1-of-2 from the line). Not sure if he picked up Derek Elston's illness or not (UPDATE: looks like he had back spasms all night), but this is back-to-back substandard performances for Indiana's leading scorer. There appeared to be more of a concerted effort to get him the ball down low in the second half, but he had trouble establishing much.
This was one the Hoosiers absolutely had to win. And they didn't. Now the prospects of an 0-4 start to Big Ten play and a six-game losing streak loom large.
South Carolina State, Florida Gulf Coast, Wright State — care to come back to Assembly Hall again this season?
Filed to: Penn State Nittany Lions