Pomeroy Preview: Northern Iowa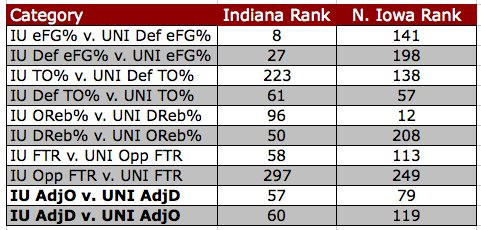 A few thoughts on tonight's battle with Northern Iowa in Las Vegas:
1) The first thing that sticks out is Northern Iowa's adjusted defensive efficiency (79th in the nation) is pretty solid. Or, at least, a higher level than most of Indiana's opponents so far this season. So the Hoosiers' sharpshooting offense should be tested a little more this evening coming off their hot performance against South Carolina State.
2) Indiana's solid offensive rebounding prowess could be tested a little bit this evening, as UNI is allowing opponents to snatch only 25.8 percent of available offensive boards, good for 12th in the nation. If the Panthers keep the Hoosiers' shooting percentage down and do a good job of keeping them off the boards, thus negating second-chance opportunities, it could help propel them towards a victory.
3) The Panthers don't get to the line that often (249th in the nation in free-throw rate), so it's possible that despite the Hoosiers sending opponents to the line at a high rate this season, it won't be as pronounced a free-throw discrepancy as we've seen at times so far.
4) UNI does a good job of taking care of the basketball — 57th in turnover percentage  (18.2 percent) — so the Hoosiers building off Sunday's low turnover performance would be helpful in extending their opportunities on the offensive end and keeping close in this battle.
All stats from kenpom.com and are through Monday night's games.
Filed to: Northern Iowa Panthers