Crean watches Bosse freshman Jaquan Lyle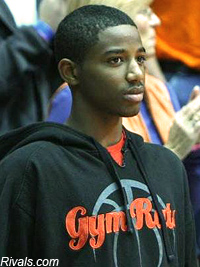 Tom Crean is continuing his push to add to Indiana's already stellar 2014 class and on Tuesday night, the third-year IU coach made an appearance at Evansville Memorial to watch Bosse freshman Jaquan Lyle.
The 6-4, 185-pound Lyle, who picked up an offer from the Hoosiers earlier this fall, scored 14 of his 17 points in the second half in a 74-65 road win. He also had 10 rebounds and four assists.
Also in attendance to see Lyle: Illinois head coach Bruce Weber and Purdue assistant Paul Lusk.
Here's a rundown of Lyle's numbers in Bosse's first two games:
+ Twenty points and 10 rebounds in a 62-55 loss to Jeffersonville on Nov. 27.
+ Nineteen points in a 76-72 upset of Princeton on Dec. 10.
Bosse (2-1) will host Cody Zeller and the Washington Hatchets on Friday night.
Filed to: Jaquan Lyle