Pomeroy Preview: Indiana at Kentucky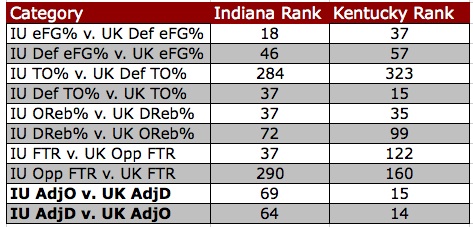 Three points of interest:
1) Kentucky is quite good on both sides of the ball — ranking in the Top 15 in both adjusted offensive and defensive efficiency. Their turnover percentage (16.4 percent) is impressive as well. If this holds tomorrow, Indiana is going to be in for a tough test.
2) We know the Hoosiers turn the ball over a lot. But Kentucky only ranks 323rd in defensive turnover percentage (17.0 percent), so Indiana might be able to exploit this and keep the turnovers down. Of course, the Hoosiers' turnovers are often self-inflicted, so this might not matter as much in the end. (In case you missed it, Tom Crean was pretty direct in his comments at yesterday's press conference: The Hoosiers have to do a better job of taking care of the ball.)
3) The battle of the boards should be an interesting one. Indiana is a strong offensive rebounding team (offensive-rebounding percentage: 38.8 percent), but Kentucky is good on the defensive boards (holding opponents to an offensive-rebounding percentage of 27.7 percent, 35th in the nation) and have superior length. If the Hoosiers can win this battle, it'll help them to more second-chance opportunities, which will be crucial against a good team on the road.
Filed to: Kentucky Wildcats