Hartman, Cathedral win battle with Davis, Warren Central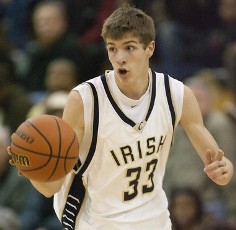 Joe Eberhardt is a high school sports blogger and regular contributor to Inside the Hall. You can follow him on twitter at @IndyHSHoops and read his blog, IndyHSHoops.com.
INDIANAPOLIS — A matchup that saw two Indiana commitments going head-to-head was just too much for Indiana head coach Tom Crean to pass up. The third-year IU coach was in attendance at Warren Central to watch the Warriors battle the Cathedral Irish.
Crean watched two of his future players, Devin Davis of Warren Central and Collin Hartman of Cathedral, square off Friday night. Cathedral trailed 21-20 at halftime, but ultimately got the better of Warren Central, winning 61-54.
Collin Hartman notched a double-double, scoring 10 points and grabbing 10 rebounds for Cathedral in the win. Hartman had a streaky night shooting the ball, but looked to make contributions on the glass and as a facilitator for teammates. He created openings for his teammates by drawing double teams and wisely passing to the open teammate. Hartman made a big play with the game winding down, knocking down a wide-open three to give Cathedral a 10-point lead with one minute remaining.
As usual, Hartman looked great handling the ball, using either hand to get by his man. Hartman brought the ball up the court for Cathedral occasionally and looked comfortable against full-court pressure. His collegiate position isn't at guard, but it's an added asset to know that Hartman is a more than adequate ball handler. On paper Hartman's performance wasn't eye-popping, but he contributed in multiple areas and showed how he is able to make his teammates better. Hartman and Cathedral take their 1-0 record to Broad Ripple tonight for a game against fellow Indiana commitment Ron Patterson.
Devin Davis, fighting through a back injury and the flu, scored 11 points and grabbed five rebounds. Davis didn't dominate, but he did a little bit of everything and showed versatility. The first thing that stuck out about Davis was his improved ball-handling. Davis had been working to improve in this area all of the offseason and it looks to have paid off. On several occasions Davis beat his man off the dribble, forced contact and got to the foul line. In total, Davis was able to draw five fouls in the game and shot eight free throws. One on occasion, Davis drove from the left baseline, got past his man using the bounce and rose up to throw down a crowd-pleasing dunk. Davis even brought the ball up the court for the Warriors from time to time. Davis didn't look to shoot very much, but when Cathedral challenged him to do so, he knocked down a contested 3-pointer from the right wing.
He also contributed well away from the ball by crashing the boards and challenging shots in the paint. Davis also showed good decision making as a passer, passing out of double teams and looking to make the extra pass. Overall, his statistics were not gaudy, but this was a good game for a guy wearing a back brace and battling the flu. In a game where he easily could have been given a pass for a lack of effort, his energy was outstanding. Devin and Warren Central return to action tonight at Franklin Central.
Here's a brief post-game video Q & A with Devin:
And some highlights:
Filed to: Collin Hartman, Devin Davis