Around the Hall: More on IU-BC, ACC-Big Ten Challenge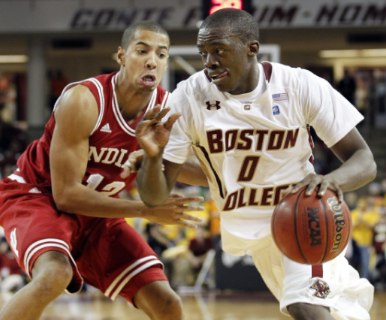 Around the Hall is recommended reading from the Inside the Hall crew. So go ahead, get your read on.
+ The Big Ten Geeks over at the Big Ten Network go into a little detail on IU's defense in the BC game and well, it's not good:
Indiana had a historically bad night on the defensive end in their 88-76 loss at Boston College. Since at least 2002 (the furthest back I can find efficiency data), no Hoosier team had allowed an opponent to score 1.45 points per possession, and this season's version just did it. Boston College turned it over on just 10 percent of their possessions, rebounded over half their misses, shot 58 percent from two, and nailed 42 percent from three. The Eagles basically got anything they wanted, and some pretty good offense from Indiana (with a genuinely low turnover rate!) wasn't enough to keep up.
+ Our old friend Eamonn (you remember him, right?) weigh-ins in briefly on the loss in his ACC-Big Ten Challenge recap on ESPN's College Basketball Nation:
This wasn't the greatest game in the world — it contained shades of Wake Forest-Iowa from Tuesday night, and yes, I probably just made a bunch of Wake fans angry again — but there were good takeaways for both teams. The Hoosiers proved they can score and compete with decent teams on the road, even if their defense needs serious work. Boston College proved it can play a more intelligent and composed brand of basketball under new coach Steve Donahue. Neither team looks tourney-bound, but neither team looked truly horrible either, and given where both of these programs are, those count as steps in the right direction.
+ Jeff Eisenberg at the Dagger on Yahoo has four winners and four losers from the ACC-Big Ten Challenge and a point guard from Duke tops the list:
How scary is it that Duke returns last year's Final Four MVP in Kyle Singler and a guard who made numerous preseason all-American teams in Nolan Smith and yet it's readily apparent that neither of them are the Blue Devils' best player? Irving became a freshman star on Wednesday night in the mold of Derrick Rose or John Wall, scoring 31 points on 8-of-12 shooting and showing an ability to get to the rim at will.
(Photo credit: AP/Mary Schwalm)
Filed to: ACC/Big Ten Challenge, Boston College Eagles