So the word on Guy is … well, not much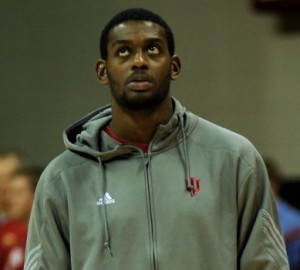 I know Cody Zeller is overloading everybody's circuits right now, so this might be flying a little low on the radar, but it is far more immediate, nonetheless. It's also pretty much, dare I say, a black hole of information at present.
To recap what we do know: Guy-Marc Michel sat Wednesday's exhibition after Indiana revealed that the NCAA was looking into Michel's eligibility. This investigation is related to some time Michel purportedly spent playing for SLUC Nancy, a professional team in France, in 2007-08. (If you check the fourth picture down on this page, you can make out fairly clearly the rather noticeable Michel.)
What's at stake here isn't whether Michel played or not. It's fairly clear he got court time for this team, though how much and for how long is wildly hard to determine. As with the case of Kentucky freshman Enes Kanter, the NCAA's look-see is interested in whether Michel was compensated for his time, and if so, how much. Rules allow for some leeway in the area of payment if players are plying their skills professionally overseas, for food, living expenses, etc. A salary on top of that — or money not imminently necessary — would present a larger problem.
Getting information on the issue is also a rather sizable task. Indiana isn't commenting, which is smart. The NCAA, as of now, hasn't responded to a phone call asking for comment, but I was warned when I left the message that it was generally policy not to comment on ongoing investigations. Both of these reactions are professional, and generally par for the course.
We've made some attempt to get in touch with SLUC Nancy, (though for obvious reasons we've yet to succeed) hoping to find out if they have any recollection of Michel, and whether the NCAA has contacted them.
I did manage to exchange a quick e-mail with Jared Phay, the coach at North Idaho College, where Michel played junior college. Phay said he wasn't really familiar with the situation Michel is in now. He said North Idaho cleared his amateur status two years ago, and teams that have pursued him have always treated it like an important factor, predictably, in his recruitment.
Michel, Phay said, worked hard to retain his amateur status, and for what it's worth, Phay said he was confident the situation would work out.
That generally sums up what I've been able to gather thus far. NCAA investigations are usually, by their nature, hard things to crack into, so it's not all that surprising. And I know this doesn't cheer up your IU football blues, but it's all I've got. Enjoy your weekend.
(Photo credit: James Brosher)
Filed to: Guy-Marc Michel