The Minute After: Franklin College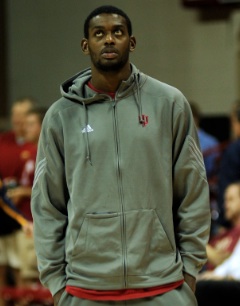 A few scattered thoughts on IU's 89-37 win over Franklin College in their first exhibition game of the 2010-11 season:
No Guy for you.
After all the positive chatter surrounding Guy after Night of the Living Red, I'm sure I wasn't the only one curious to get a peek at IU's new big man. But it wasn't meant to be.
The NCAA has come calling, and until there's a resolution in the investigation, Guy's game will remain in a holding pattern with nowhere to land.
(Thanks to our friend James Brosher for the photo.)
Watford on the rise.
He flashed some polish from downtown. He mixed it up around the basket. He stepped back and nailed a mid-range jumper; he drove to the hoop and scored. Watford's offensive arsenal was on point from several spots on the court tonight, and I don't think it's a stretch to say this is what we're going to see out of the sophomore all season long.
It won't always come this easy for him. He won't always score over a point per minute (25 points in 24 minutes).
Remember: The competition was not anywhere near Big 10 level this evening. But Watford's game stood out the most tonight as one that's taken that next step.
He's going to shoot better than the 37.5 percent from the floor a season ago. And with Mo Creek on the floor at the same time, defenses won't be able to key on one or the other without suffering the consequences.
Just one of many reasons why this team can be better this season if things play to form.
Threes alive.
Just a thought, but if Watford is knocking down threes, Matt Roth and Maurice Creek are back in the fold, and Hulls and Elston improve their 3-point shooting in their second season as Hoosiers, it could prove to be a strong asset for them this season.
If Guy can draw some attention down low, IU could even run a little one in, four out — similar to the sets the Orlando Magic run with Dwight Howard and their gaggle of 3-point shooters.
Moore is better.
I suppose this hadn't bubbled up in my conciousness till this evening, but Daniel Moore is now a senior member of this team along with Tom Prithard and Verdell Jones as they all enter their third year. (Jeremiah Rivers and Matt Roth have been here as long, but both have missed a significant amount of game experience: Roth with his injury last season, Rivers because of NCAA transfer rules. Kory Barnett has not gotten significant burn, either.)
Having an experienced, third-year player in Tom Crean's system as Jordan Hulls' backup at the point is not to be overlooked.
He may lost the matchup game at times because of his size. (Again, remember tonight's compeition level.) But the Hoosiers only need him to keep control of the game and minimize mistakes.
Couple tonight's performance with his strong showing at Night of the Living Red, and he's proving capable in that role.
So far. So good.
Meeting (exceeding?) expectations.
They said Victor Oladipo was the type of freshman that can contribute immediately. The type of freshman that brings some energy off the bench, a needed spark on nights the starting lineup comes out flat.
But Vic got the start in his Cream and Crimson debut. Yeah, Verdell is out, Guy is out — there was room. But Crean went to him first, not two of his capable elders: Elston or Bobby C.
I think that's a sign Vic has impressed his coach so far this preseason.
And check this solid, if understated, line: 4-of-4 (1-of-1 from three-point land) for nine points. Three rebounds. Two steals. One assist. One turnover.
If he brings that sort of line every night all season, I think most of Hoosier Nation will be quite pleased.
So far, Vic's early returns suggest a spot in the rotation is his to lose.
Now, as I keep qualifying all this with, against this sort of competition so early in IU's 2010-11 maturation, there's an infinite amount of variables.
This team's true identity has yet to be discovered.
But we'll be watching as they figure it out in the coming weeks.
—
Your comments are encouraged below. May I suggest some Mo Creek chatter?
Filed to: Christian Watford, Daniel Moore, Guy-Marc Michel, Victor Oladipo