2010-2011 Player Profile: Will Sheehey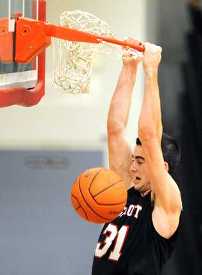 It's time for Inside the Hall's player-by-player breakdown of the 2010-2011 Indiana Hoosiers. Today: Will Sheehey.
Like fellow freshman Victor Oladipo and junior college transfer Guy-Marc Michel, Will Sheehey arrives with the expectation, from both himself and from Tom Crean, that he'll compete for significant minutes in the IU rotation from day one.
Crean, as has been mentioned in this space and also elsewhere, says he has no interest in this group of newcomers waiting their turn and easing into the rotation.
Sheehey hails from a basketball background. His father, Mike, played at St. Bonaventure and Syracuse and his uncle, Tom, played at Virginia and was drafted by the Boston Celtics and played professionally in Spain.
At 6-6 and 195 pounds, Sheehey's bread and butter offensively seems to be a combination of a solid mid-range game, setting up teammates and finishing at the rim. If given space, he doesn't hesitate to consistently stick the 15 to 18-foot jump shot. And if he's defended too closely, Sheehey will use the dribble to get past defenders. His versatility with the ball should afford him the luxury of playing in the backcourt and also on the wing.
Like Oladipo, Sheehey should help Indiana on the offensive glass and if he's able to establish himself early in that regard, that should increase his likelihood for playing time. (Crean is placing a big emphasis on improved rebounding this season.) He appears to have improved upon his physical stature from the time he first met with the media in late July to Hoosier Hysteria earlier this month. But as is the case with most first-year players, continued improvement of strength and conditioning is a necessity to compete in physical conference games. Sheehey is also continuing to work on his 3-point range, which has been, to this point, one inconsistent part of his game.
Bottom Line: Sheehey should compete for minutes in a rotation that will be much more difficult to crack than the previous two seasons. He will likely get plenty of opportunities in the early out of conference slate. And if he rebounds well, defends and limits his mistakes, Sheehey should be in the mix come Big Ten play in late December.
Quotable: "People talk about the tradition, but it really is one of a kind. With all the other schools recruiting me, I felt this one was the one that if you turn this place around it will be one of the stories of basketball history." – Will Sheehey
Previous Player Profiles: Matt Roth, Bobby Capobianco, Victor Oladipo, Tom Pritchard, Jeremiah Rivers, Christian Watford, Verdell Jones, Maurice Creek, Derek Elston, Jordan Hulls, Guy-Marc Michel
Filed to: Will Sheehey