Smotherman enjoys IU visit, will be back for Hoosier Hysteria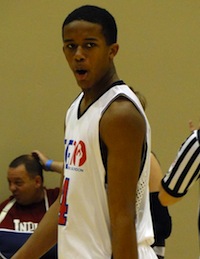 If there's anyone qualified to talk about Denard Robinson's incredible footballing ability, it's Basil Smotherman.
The 2013 wing has now seen Michigan's elusive quarterback — and probably Heisman front-runner — twice this season: first at Notre Dame, where Robinson rolled up a school-record 502 total yards, and then again yesterday, when Robinson's Wolverines scored inside the game's final half-minute to seal a thrilling 42-35 win over Indiana.
What he saw from the stands at Memorial Stadium already has Smotherman excited about a return visit for Hoosier Hysteria on Oct. 15.
"That's going to be pretty fun," Smotherman told Inside the Hall by phone Sunday. "The fans are pretty rowdy."
Smotherman, a sophomore at Heritage Christian, has an offer from Indiana already on the table, and Sunday had nothing but good things to say about the Hoosiers, the program and coach Tom Crean.
"Coach Crean's a funny guy," Smotherman said, adding that Indiana attended his open gym recently, and that he thinks Crean has "done a really good job with his recruiting."
Having already trekked to South Bend and with another trip to Bloomington on the horizon, Smotherman said he isn't completely sure of the rest of his fall plans. Beyond Hoosier Hysteria, the only other trip tentatively planned is a visit to either Michigan, a team that has only recently entered the picture, or Michigan State. But the Oct. 15 visit is confirmed, and it's one that Smotherman repeatedly said he's looking forward to.
If he gets the chance to see Victor Oladipo's rather precocious dunking ability during the event, some of the moves might look a little bit more familiar. That's because Smotherman has YouTubed some of Oladipo's highlights and tried to emulate them himself.
"He inspired me," Smotherman said. "He's long and I'm long too. … He's aggressive. I have to be aggressive."
One player apparently hoping to play with Smotherman in college is Trey Lyles. The class of 2014 forward, who only committed to IU last month, is already trying to convince his friend to come to Bloominton as well.
"He just kept telling me," Smotherman said of Lyles, "IU's where it's at."
Follow Inside the Hall on Twitter.
(Photo credit: Jody Demling)
Filed to: Basil Smotherman, Trey Lyles, Victor Oladipo