Q & A: 2013 Cathedral forward Collin Hartman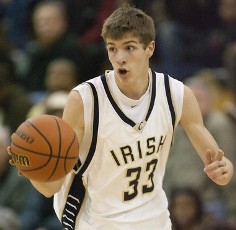 Joe Eberhardt is a high school sports blogger and contributor to Inside the Hall. You can follow him on twitter at @IndyHoopsBlog.
I recently caught up with Cathedral sophomore Collin Hartman for a Q & A. The talented 6-6 forward talked about a variety of subjects including recruiting, Subway sandwiches, and preparing for the high school season.
Can you describe yourself as a player?
I'm pretty versatile. I think I can surprise some people with my perimeter skills compared to most guys my size. Depending on who's guarding me I can go inside and score, and I can guard anyone my coach tells me to. I've just been working on making my overall game better. It's funny to see the look on people's faces when I surprise them with how versatile my game is.
What area of your game are you trying the hardest to improve?
Improving my perimeter skills as a whole. I want to be able to take any player off the dribble, and also be able to guard anyone on the court. It's coming along just fine, but it's a process of improving.
Is there anyone you try to model your game or skills after on the court?
I try to be my own player, but there are some guys I watch in college or the pros and try to imitate some of the things they do.
How do you work on improving your game?
My mom (former Butler Basketball Player) works with me a lot, and I also play with my brother for four hours everyday. I like being in the gym, I would say I'm definitely a gym rat.
Now that school has started, what are you doing to prepare for the season?
The first thing I'm doing is getting in the books, and making sure that I get a good start with all my classes. When I get home I'll do my homework and grab a snack, but then I'm outside playing basketball all afternoon until dinner, and then I head back outside again. I'm out there doing dribbling drills and working on my moves. At school I dribble a tennis ball around all day, and I honestly think it has helped my ball handling be more consistent. My teachers wonder why I have a tennis ball, but I tell them I have to work on my ball handling.
Are you spending any time in the weight room?
Yeah, I lift at school during the season, but right now I'll lift at home three times a week.
What colleges have offered you scholarships or are recruiting you?
Purdue, Notre, Dame, Illinois, Indiana, and Butler have offered me. Ohio State has expressed a lot of interest in me so far. Right now I want to get out and see campuses in places other than Indiana. I want to see the pros and cons of what's here and what is somewhere else.
Do you have any visits planned in the near future?
Not that I know of. My mom will probably take care of that. Most of the time I just let her plan it and I'll get in the car and go to the school.
Does it help having your mom aid you in the recruiting process?
Yeah it kind of takes some stress off of me and lets me still feel like a teenager and have fun. It helps me because she has been through the process when she went to Butler to play basketball.
When you do make a college decision, what do you think will be most important to you?
I want to go to a place where I can relate to the guys and have a good college experience. I don't want to just go to college and fly by and move onto the world. I want to have a lot of fun at college. I have friends who have moved away to college and love where they are. I don't want to be one of those guys who says, "why did I make this choice?" or regret where I went ten years from now.
Obviously it is pretty far away, but have you thought at all about what you want to study in college?
Yeah, I'm back and forth between a business degree and something to do with athletic training. I really want to stay involved in sports, even if I don't play professional basketball. I can't picture myself not being involved in sports or basketball someday.
What are some things you do when you aren't playing basketball and want to relax?
I love listening to music and just hanging out with friends. We'll go out to eat, and I love to go to Subway. Subway is probably my favorite place in the world.
What kind of sub do you get at Subway?
I get a foot long Philly cheese steak with provolone and a bunch of toppings. Then you top it off with the chipotle southwest sauce, and it goes great together.
What are your goals or expectations heading into the school season?
We have a whole new coaching staff and a whole new vision. It's not just winning city and then going from there, we want to go all the way and play like we should. We have so much potential and so many different guys who can make an impact, that if we buy into what our coach is saying we will be able to go far.
Filed to: Collin Hartman