Indiana Class of 2013 Rankings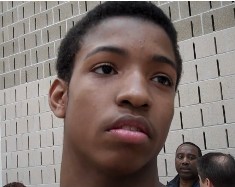 Joe Eberhardt is a high school sports blogger and writer in Indiana. He created Indy Hoops Blog and contributes to the Hoosier Hoops Report. You can follow him on twitter at @IndyHoopsBlog.
The 2013 class in Indiana isn't very big, but it's full of talented players. This particular class is loaded with guards and wings, but lacks an elite big man. There are at least seven sure fire high-major players in this class and potential for more to emerge. If you have any questions about the rankings, feel free to address them in the comments.
10. Brenton Scott 6'0 PG (Ft. Wayne Northrop) – He's not as highly regarded as his twin brother, but is still a good player and capable point guard. He's more of a distributor than Bryson, looking to set up teammates rather than score the ball. He's a solid 3-point shooter, and will fill it up if given the opportunity. He really gets after it on the defensive end and plays with a tough mentality.
9. Richard Freeman 6'7 PF (Lawrence Central) – Freeman is an athletic player with great length and bounce. He can shoot the mid-range with consistency, but I'd like to see him assert himself down low more. Added strength and aggressiveness down low would really benefit his game. His skill and production hasn't caught up with his upside, but he's got plenty of time to improve his game. He's one of the better long term prospects in this class depending on his improvement and development.
8. Demetrius Jackson 6'1 PG (Mishawaka) – Jackson is a quick and smart point guard who uses his athleticism to break down the defense. He looks to set up teammates early and often which is good, but he needs to look to assert himself as a scorer as well. His shooting form is solid, but consistency can be an issue for him. As he improves his skill and relies less and less on physical talent, he'll improve as a player.
7. Darryl Baker 6'2 PG/SG (Jeffersonville) – He's strong and quick, able to get to the rim and knock down tough buckets after contact. He's finally recovered from a leg injury, and I think he's gained back most of his athleticism and bounce. Baker needs to improve his shooting consistency, but can get hot and really fill it up. Not only can he score off the dribble, but looks to set up teammates as well and is a smart passer. He could easily shoot up the rankings as he gets back into the full-time grind of basketball.
6. Zak Irvin 6'4 SG/SF (Hamilton Southeastern) – Irvin was one of the lesser known 2013 players heading into the AAU season, but made a big time impression on coaches, media members and his peers. He had a coming out party at the Adidas May Classic, showing off his shooting ability all weekend long. He's a fantastic mid-range shooter, which is often a lost art. His shooting touch extends out t0 the 3-point line and he's got the ability to fill it up from deep. Zak showed increased confidence driving to the rim this summer, embracing contact and getting to the line. He needs to get a little stronger, but he looks like a player who could definitely grow and fill out more.
5. Basil Smotherman 6'4 SG/SF (Heritage Christian) – Shooting is Smotherman's biggest asset right now, but he showed increased willingness to drive to the hoop closing out the AAU season. The lefty has a feathery jump shot and his range extends past the 3-point line. He's a good athlete and quick with and without the ball. His dad is a coach and you can see he is well-versed in the game. Defensively he's solid and can be a multi-positional defender with his length and quickness.
4. Devin Davis 6'5 SF/PF (Warren Central) – Devin (pictured) will remind players of a more skilled version of DeJuan Marrero or Ryan Taylor. He's a great athlete, is tenacious on the boards and shows the ability to get a ton of second chance points. His length makes him a formidable rebounder and he's got a "nose" for the ball. He's also great at getting to the rim off the dribble where he can absorb plenty of contact and get to the foul line. Davis is still improving his consistency as a shooter, but is beginning to show signs of improvement on the perimeter. He's transitioning from being primarily a post player to more of a wing player and is showing improvement and versatility in his game.
3. Bryson Scott 6'1 PG/SG (Ft. Wayne Northrop) – Bryson is deceptively strong and able to use his strength and quickness to get to the rim where he can score or dish the ball to teammates. He's able to absorb contact, get to the line and knock down free throws with consistency. Several people have compared him to a young Terone Johnson, which may be a fair comparison. He plays with that same physical style as Johnson, and has improved his shooting consistency as Johnson did throughout his career. He could probably play either the point or two-guard, but looks to score an awful lot to be considered a true point. Defensively he's quick, gritty, and strong enough to defend the point, but may struggle defending bigger guards.
2. V.J. Beachem 6'6 SG/SF (Ft. Wayne Harding) – Beachem may not produce at the level of some of his 2013 peers, but his potential is undeniable. He's got so many tools offensively and can score in a variety of ways. He's a good enough ball handler to score off the dribble, a reliable shooter out to the 3-point line and has the athleticism and length to make an impact on the glass. He's rail thin, and if he gains more strength his game will benefit substantially. He can defend the two or three right now, but if he added strength he could potentially defend the four in college. Consistency is the biggest question mark on his game right now, but the potential is there for Beachem to be a big-time prospect.
1. Collin Hartman 6'6 SF (Cathedral) – Hartman is a very advanced player for his age. His skill set is impressive as he possesses the ball-handling and shooting ability of a guard. He's pretty advanced physically and sometimes relies on size too much by playing inside, but he's got the versatility to be a true inside-outside threat. He's an average athlete, but can use his high basketball IQ to make up for it. Hartman has a nice 3-point stroke, but can be streaky at times from the perimeter. His best work is done scoring off the dribble and getting to the foul line. He needs to get a little quicker to defend the three at the college level, but he's got the skill set to be a very productive player throughout his career.
(Editor's Note: Davis, Hartman, Irvin, Bryson Scott and Smotherman have offers from Indiana.)
Filed to: Bryson Scott, Collin Hartman, Darryl Baker, Devin Davis, Zak Irvin