July evaluation period: 2012 class (part two)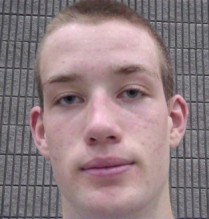 Inside the Hall hit the recruiting trail for the start of the July evaluation period and made stops at the adidas Invitational in Indianapolis and the Kentucky Hoopfest in Louisville. Here are our notes on prospects in the 2012 class with IU recruiting ties:
(Editor's Note: The 2011 Recruiting Board, updated on 7/17/10, can be accessed here.)
+ Matt Costello, Bay City Western (MI), Dorian's Pride (pictured): Costello, a high-energy prospect that rarely takes a play off, is a versatile forward that can knock down shots from the perimeter and also finish in the post. His mid-range game is solid, too, and he doesn't shy away from taking the open look. Costello excels at doing the little things it takes to win — like setting hard screens and diving for loose balls. He's listed at 6-8 or 6-9, but looked to be closer to 6-7 based on observing a game and then standing next to him for an interview. It's tough to imagine Costello leaving his home state with offers from Michigan and Michigan State already in-hand.
+ Kenny Kaminski, Medina (OH), Indiana Elite Team Indiana: Kaminski will announce his decision on July 31 and four schools remain in the mix: Indiana, Michigan State, Ohio State and Wisconsin. Speculation has him leaning towards MSU and he admitted in an interview that his preferred destination is beginning to come into focus. Kaminski is an elite shooter with an improving game in the paint. He's a better athlete than he's given credit for, but his ball handling and rebounding are two areas he's working to improve upon. In a meeting with the Birmingham Storm at The Kentucky Hoopfest, it was Kaminski's leadership that helped pull together IE Team Indiana for a second half rally in front of Tom Izzo, Bo Ryan and Tim Buckley.
+ Peter Jurkin, United Faith Christian Academy (NC), Indiana Elite Team Indiana: There are a lot of things to like about Jurkin's size. He's a legit 7-footer and does a stellar job defending the lane. His length is such that he can often block shots by simply standing his ground with his arms up. He also runs the floor extremely well and shows a pretty nice touch from the foul line. A bit concerning, however, is his lack of upper body strength. It's no fault of Jurkin's, but he'll need to improve in that area to become a real difference maker at the next level. Offensively, he's still pretty raw and will need to continue developing a go-to post move or two. Still, his ceiling is high enough that it's a bit surprising he's not held in a higher regard by the national scouts.
+ Kaleb Tarczewski, St. Mark's (MA), NE Playaz: Tarczewski is in demand by high majors all over the country because he's an elite prospect in a tough position to fill — center. At 7-0 and 225-pounds, his post game is advanced and he runs the floor extremely well. He also appeared to be solid on the offensive glass and was able to finish plays with both hands. It's tough to get a solid read on Tarczewski's interest on IU because his list of schools is still rather lengthy. He attracted Bill Self, Mike Krzyzewski, Roy Williams and several other head coaches to his games at the adidas Invitational.
+ Wanaah Bail, Trent (TX), Franchize All-Starz: In two short viewings of Bail at the adidas Invitational, it was difficult to not fall in love with his explosiveness. His athleticism seemed to be near the same level of Hanner Perea, which is quite the compliment. It was tough to get a sense for his offensive skillset in the fast paced environment that is AAU basketball, but Bail was impressive on the offensive glass where he managed to get his fair share of put backs. Defensively, his length makes him a threat to block a shot at anytime. His agility at 6-9 and ability to guard the wing or the post will likely allow him to play multiple positions at the next level.
Filed to: Kaleb Tarczewski, Kenny Kaminski, Matt Costello, Peter Jurkin, Wanaah Bail