An update on 2011 Washington forward Cody Zeller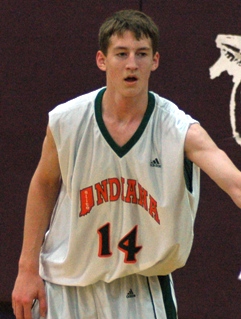 It's already been a busy and successful AAU season for Cody Zeller and Indiana Elite, and May isn't yet half over. Zeller and his teammates — several of whom rank high on IU's wish list for the 2011 and 2012 classes — already notched wins in two tournaments, including a revenge win over St. Louis Gameface at the Fort Wayne Run-N-Slam earlier this month.
Individually, Zeller is also using the summer to refine several parts of his game that he might not so easily improve during high school season.
"In high school, I was always being guarded by two and three guys," Zeller told Inside the Hall. "It gives me a chance to work on post moves and drives and things like that against a different player, a different type of defender."
Of course, there are plenty of Indiana fans who probably wouldn't care if Zeller skipped his last season at Washington High (where he will be defending a state title) and just came to Bloomington in the fall.
Zeller, like his brothers Luke and Tyler before him, is an incredibly appealing prospect, particularly with his special blend of size and ability. Getting a commitment from Zeller would represent a benchmark recruiting win for coach Tom Crean, who has made few bones about focusing on closing Indiana's borders when it comes to in-state high school talent.
That said, Zeller isn't rushing his decision. He said since the end of the season, when several schools underwent coaching changes and staff turnover, he's been getting interest from new schools, including Texas, Wake Forest and Virginia Tech.
For that reason, he said, he's not ready to narrow a list down to five schools and is instead trying to keep an open mind. But that school just a little over a hour northeast of his home in Washington, Ind., still sits well with the 6-foot-10 prospect.
"Now that others have gotten involved, they've picked it up a little bit," Zeller said of IU's interest. "I could definitely see myself playing there."
How he'd get there is a question that has some fans worried. With the recent commitment of junior-college post man Guy Marc-Michel, the Hoosiers have no open scholarships in the class of 2011, with highly-rated prospects like Zeller and Elite teammate Jeremiah Davis still in play. Another Elite player, Austin Etherington, has been a solid verbal with the Hoosiers for some time.
Zeller said no one from IU has specifically mentioned "anything other than I have a scholarship offer."
Whatever the situation, Zeller still appears one of IU's primary targets for the immediate future, though Zeller himself admitted staying close to home wasn't much of a priority.
"We figured out with Luke and Tyler that you're not gonna get home much no matter if you're an hour or two hours away or 11 hours away with all the school and practices and games and everything, you might get only get home Easter and Christmas," he said.
For now, as just about any prospect will tell you, Zeller's focus is on this summer, on improving, and on working with his teammates to "win every tournament that we play in."
Filed to: Austin Etherington, Cody Zeller, Jeremiah Davis