Matt Carlino to UCLA … in the 2010 class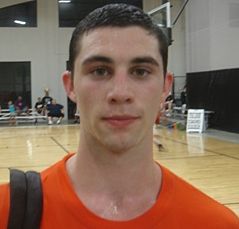 Multiple media outlets are reporting that Bloomington South guard Matt Carlino will graduate high school a year early and attend UCLA next fall as a member of the 2010 class.
Carlino, who originally committed to IU back in August of 2008 following an Elite Camp, re-opened the process on March 25. And now, Carlino will enroll as a Bruin next fall. Here's what he told Dustin Dopirak of The Herald-Times about his decision:
"It has great tradition. It's close to home and they've got a great coach in coach (Ben) Howland. There are great players coming in there and there currently. I just feel like it's a great situation for me to come in and help out."
The Carlino situation is an interesting one with many dynamics. First, he committed very early to Indiana, so it's not surprising that he would end up changing his mind. It happens quite often.
But beyond that, Carlino and his father, Mark, moved from the Phoenix area to Bloomington last spring to get a closer look at the IU program. And now, he'll leave Bloomington South, graduate high school a year early, move across the country again and re-classify to 2010. While it would be easy to question the decision making here, the better route is to wish Carlino the best and move along.
Filed to: Matt Carlino