Indiana in the mix for 2011 point guard Sterling Gibbs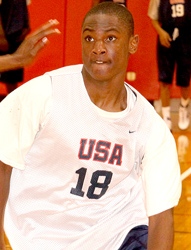 One name Indiana fans will likely become more familiar with over the coming months is Seton Hall Prep (NJ) point guard Sterling Gibbs.
The 6-3, 180-pound Gibbs is coming off a fantastic junior season in which he averaged 23 points and five assists per game. Seton Hall Prep finished the season 27-3, falling to St. Peter's Prep 64-54 in the North Jersey Non-Public A Final.
Gibbs, who considers himself more of a pure point guard than a scoring guard, said he experienced noticeable improvement in his game from his sophomore to his junior season.
"I think the main part was understanding the game more," Gibbs told Inside the Hall. "I understand to take what the defense gives me and if I get my teammates open shots, then my offense will come into the mix and it'll be a lot easier for me to score if my teammates are scoring as well."
While his scoring numbers were impressive, Gibbs, the No. 22 point guard in his class according to Scout.com, is more focused on making his teammates better and winning.
"I can score when needed," he said. "I like to get my teammates involved in the game. Overall, I just like winning. That's the main thing for me."
With his brother Ashton in the midst of a successful career at Pittsburgh, many believe that the younger Gibbs could follow in his footsteps. But that might not necessarily be the case.
"My brother being at Pitt, it definitely helps, but at the same time, I'm not going to base my decision off of that," Gibbs said. "I'm not going to say just because he's there that I'm going to go there. It is a hard adjustment going into your freshman season at a college, and him being there would help, but I don't think his success would be the same as mine because we play a totally different game."
The Panthers, along with Indiana, Florida, Maryland, Seton Hall, Rutgers and DePaul, have already extended scholarship offers.
"Indiana started recruiting me early last year," he said. "Coach Crean came up to a couple of practices with former Coach McLeod. They both came up to a couple of practices, came to a couple of games, saw me play at camp. They're definitely interested. They offered me a scholarship and I'm definitely really interested in Indiana."
While Gibbs said the departure of Roshown McLeod from the coaching staff may have been a factor initially, he remains interested in the program and talks often with Tom Crean.
"At first it was, because I developed a real close relationship with Coach McLeod," Gibbs said. "I would talk to him a lot. He was the main one recruiting me along with Coach Crean. Now I'm pretty sure they are going to hire somebody really good to take his position so it's not really that much of a factor. I talked to Coach Crean a couple of weeks ago. He calls a good amount and I definitely am in contact with him a lot."
Gibbs does not have a timetable for a decision, but he could see the Bloomington campus as early as May if his NY Panthers team makes the trip for the adidas May Classic, which is a possibility.
"I definitely plan on coming to visit the campus," he said. "I think I'm just going to wait to see. I really like the schools that are interested in me and have offered me so far, but I just want to sit down with my parents, discuss everything and narrow my list down soon and take it from there."
(Photo credit: Rivals.com)
Filed to: Sterling Gibbs