The latest on Muncie Central's Jeremiah Davis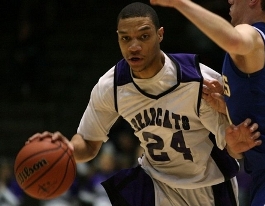 Rumors began circulating on Monday that 2011 Muncie Central guard Jeremiah Davis would make an announcement this week on where he'll play in college.
But Davis, who has maintained throughout the process that a decision would come once the right fit is found, is staying the course with that philosophy.
"My pops says he wants me to wait off for a little bit," Davis told Inside the Hall on Monday evening. "Once I feel I'm ready to make the right decision, I'll make the decision."
Davis, the No. 54 player nationally in the 2011 class according to Scout.com, said he wasn't sure where the rumors of a Wednesday announcement originated and added that his decision is not dependent on any of his peers.
"I'm not waiting for anybody," Davis said. "Whenever I feel I'm mature enough and everything is in the right spot, that's when I'll make my decision."
On April 16, Davis received a visit from one head coach on the first morning of the NCAA contact period. The visit was from Tom Crean and it gave Davis the impression that he's a top priority for Indiana.
"That's kinda how I took it," he said. "It was a real honor to have him at the school so he could watch me in weightlifting class. It was pretty cool."
Davis, who averaged 16.1 ppg and led Muncie Central to its first sectional title in three seasons, said he's also getting an earful from his Indiana Elite teammate and IU commit Austin Etherington.
"He's definitely trying to convince me to come play with him and room with him in college."
As he prepares for the spring and summer AAU circuit, the 6-3 guard says his focus is continuing to master the mental aspect of the game while becoming a more efficient playmaker. He also echoed the comments of his high school coach Matt Fine, who credited the maturation of Davis as a turning point in Muncie Central's season.
"I think I've come a long way," he said. "I've worked hard and have stayed focus on what I need to get done."
(Photo credit: The Star Press)
Filed to: Jeremiah Davis